How to Choose the Best Mexico Insurance for your Vacation

With over 761,000 square miles and 67 national parks to explore, there are many reasons to visit Mexico. Whether you're planning a trip to the beaches of Puerto Peñasco, the peaks of the Sierra Madre mountain range, or the Tulum Ruins, you can look forward to some unforgettable experiences!
The best way to make sure you can easily get around to all these destinations is by driving, which means you need to get car insurance before you get on the road. Not only that, but you might need additional insurance coverage when you visit Mexico. So before you go, take a look at what's required and what's recommended.
What Car Insurance Do You Need In Mexico?
As you plan your trip, you might be wondering is my car insurance good in Mexico? The answer is no. Mexico does not recognize car insurance coverage from the U.S. or Canada. Not only that, it's mandatory to have third-party liability insurance coverage at the very least when you drive your vehicle there. This way, if you cause an accident, the car you hit and its occupants will be covered by your Mexican insurance policy. If you want coverage for your own car and its occupants, too, you have the option to buy full coverage auto insurance.
If you're driving a motorcycle across the border, you'll need motorcycle insurance, which is similar to car insurance. Just note that most motorcycle policies don't include medical payments coverage, but you can buy that separately with a travel health insurance policy.
If you're driving an RV to Mexico, the least expensive way to get it insured is to purchase a Mexico endorsement through your U.S. or Canadian insurance agent. If that's not an option through your insurer, you can buy either liability only or full coverage RV insurance to ensure you're protected on your trip.
Should You Get Travel Health Insurance?
Travel medical insurance pays for healthcare needs when you're not in your home country. After all, very few health insurance plans in the U.S. will cover all medical costs when you're traveling. You'll likely get limited coverage, but you'll have higher out-of-pocket costs than you would at home. The same goes for Canadian health coverage.
If you want to ensure any medical treatment you get in Mexico is covered, be sure to get travel health insurance for yourself and your family. It also provides coverage for changes in travel plans due to health issues.
While it's not required when you travel to Mexico, travel health insurance provides peace of mind during your trip.
Do You Need Travel Medical Evacuation Coverage?
Travel medical evacuation insurance air evacuates you to your hospital of choice in your home country if you're injured or ill while in Mexico.
While travel medical insurance sometimes features medical evacuation coverage as part of the plan, it's usually limited. It often will fly you to the nearest medical facility, which means it won't take you home.
If you'd rather be near your home in the event of a medical emergency, you need a policy that specializes in ensuring your evacuation will be covered. That includes being air evacuated to your hospital of choice and coverage to fly family members and get your vehicle back home.
The cost of medical evacuation insurance varies depending on the details of your trip, but on average, expect to pay about $100 for one week of coverage, or about $300 per year. As you might imagine, this is a lot less than what you'd pay out of pocket to be flown to your home hospital!
Insurance for Boats and Towed Units
If you plan to tow a boat, trailer, ATV, fifth wheel or other towable units, and only want third-party liability coverage while towing, you do not need to add them to your auto insurance policy. With Mexpro auto insurance policies, liability-only coverage automatically extends to any towed unit --while being towed, whether listed on the policy or not.
If you want physical damage and theft coverage on your units while in tow only, you need to list each on your auto policy.
You'll at least need liability coverage when you get Towed Unit Insurance since this pays for any damage your towed vehicle could cause other cars on the road. You can also add Physical Damage and Theft coverage to protect your towed units while attached to your main vehicle.
If you plan to detach your towed units and drive them separately in Mexico, you'll need to buy additional coverage depending on the type of vehicles you have.
Towed Vehicles
If you're towing a car and want to drive it once you arrive in Mexico, you'll need another car insurance policy.
Motorcycles
Similarly, a towed motorcycle requires a motorcycle policy before you can operate it on the streets of Mexico.
Watercraft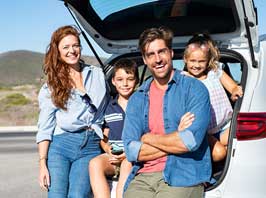 And if you're towing a boat, jet skis or other watercraft that you wish to use once you arrive, you will need a tourist watercraft liability insurance policy before you put it in Mexican waters.
Travel Trailers, Fifth Wheels, Toy Haulers, Boat Trailers, Tent Trailers, Utility Trailers can just be listed as towed unit(s) on the primary vehicle policy with a corresponding value.
Having the right insurance can help you feel more comfortable when you head out on your Mexico trip. Of course, anything could happen no matter where you are, which is why certain types of insurance are required or recommended even at home. But it just so happens that your current insurance policies probably don't apply in another country, so you need coverage specific to your destination.
If you want more help planning your trip south of the border, take a look at things you need before you drive to Mexico. Then contact us for an insurance quote before you go!