Who Is Banjercito? And Why Do I Need to Know About Them?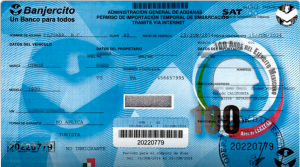 When it comes to importing a vehicle into Mexico for temporary use, you need to know about Banjercito. Are you traveling to Mexico soon and need more information? Keep reading.
What is a TIP?
Banjercito is a military bank that helps individuals obtain temporary importation permits for vehicles being brought into Mexico by those visiting the country. If you intend to travel into Mexico past the "free zone," obtaining a permit is vital. And failure to obtain one could result in the surrender your vehicle to Mexican authorities. Fortunately, these permits cost approximately $44 USD plus taxes and will cover your vehicle for trips and temporary stays in Mexico.
How to Obtain a TIP
You can obtain a TIP online on the Banjercito website, at most border locations or get one in person at one of the following U.S.-based Banjercito locations:
Chicago, ILL: 204 S. Ashland Ave. Chicago, ILL 60607. Tel: 312-738 -3052
Houston, Texas: 4507 San Jacinto Street, Houston, TX, 77004. Tel: 713-529-4764
Dallas, Texas: 1210 River Bend, Dallas, TX, 75247 Tel: 214- 932 -0668 / 214- 630- 6151
Austin, Texas: 410 Baylor St., Austin, TX 78703. Tel: 512-476-3232
Fort Worth, Texas: North West 18 Street Fort Worth, TX 76164 Tel: 817-740-9036
Los Angeles, California: 2401 W. 6th Street, Los Angeles, CA 90057, Tel: (213) 383 7352 / (213) 383 7465
Sacramento, California: 2093 Arena Blvd. Room. 275, Sacramento, CA 95834. Tel: (916) 928 4440 / (916) 928 4442
San Bernardino, California: 293 North D St., San Bernardino, CA 92401, Tel: (909) 885 9653
Phoenix Arizona: 320 E. McDowell Rd., Phoenix, AZ 85004. Tel: (602) 249 9253
Albuquerque, New Mexico: 1610 - 4th Street, NW, Albuquerque, NM 87102 Tel: 505-243-0538 / 505- 243-0717
Denver Colorado: Leetsdale Drive Suite 100, Denver, Colorado, 80246, Tel: (303) 399 0586
Required Information
In addition to the cost of the permit, vehicle owners must also make a refundable deposit of $400 USD for vehicles manufactured in 2007 and newer, $300 for vehicles produced between 2001 and 2006, and $200 for those older than 2001. Furthermore, with regards to documents, the following information must be submitted:
Original/ photocopy of Passport.
Original/ photocopy of Driver's License issued outside of Mexico.
A Mexican immigration permit, such as a tourist, business or immigrant permit for non-Mexicans.
The original and duplicate of Bill of Sale, Deed to Property and Vehicle Registration issued by a foreign authority in the applicant's name. Also, if the title is in the name of a spouse, child or parent, you must present a birth certificate or marriage license.
If the vehicle is leased, bring the lease contract as well as a notarized letter of consent from the leasing company.
If the vehicle is financed, bring the credit contract as well as a notarized letter of consent from the lien-holder.
If you're driving a company car, bring a notarized letter of consent confirming employment and authorizing the employee to import the vehicle into Mexico.
Certificate of canceled import permit for any prior temporary import permits.
Provide proof of provisional Mexican auto insurance for your automobile.
Overall, getting a TIP can be easy if you follow this short guide. Moreover, when you are finished with the permit, simply return it to any Banjercito Bank located on the border.
Get more information about getting a Temporary Importation permit on our website.
Find Banjercito locations at the border:
Arizona, California, New Mexico, Texas.