Do You Need a Visa to go to Mexico?
Planning a trip to Mexico? There's a lot to do to get ready, including getting: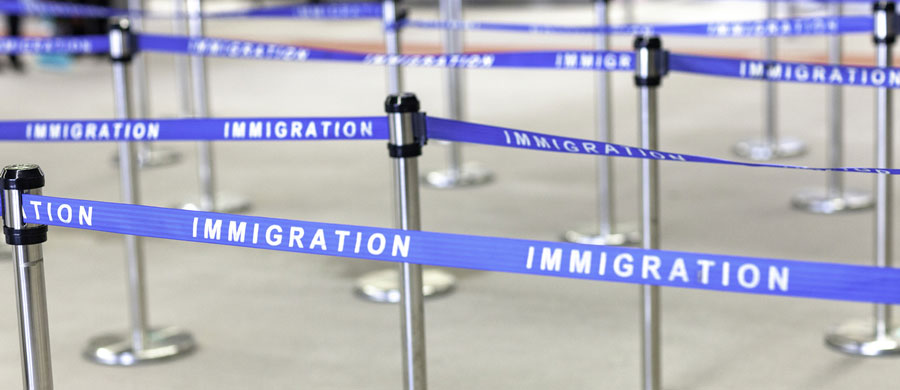 You wonder if you need a visa to go to Mexico? The answer is maybe. In most cases, you do not need an actual visa, but you absolutely must have a tourist permit. Here's what you need to know regarding crossing the border and getting your Mexican "visa."
FMM Travel Permit Versus a Visa
Mexico requires all foreigners visiting Mexico have what is called an FMM (Forma Migratoria Múltiple). Regardless of the length of your stay or where you'll be visiting/staying in Mexico, it is required.
An FMM is a travel permit issued by Mexican immigration, INM (Instituto Nacional de Migración), to foreigners for travel in Mexico. Although often referred to as a "tourist visa," it is not officially a visa, but a travel permit issued to foreigners for short-term (180 days or less) travel.
A visa is an official document allowing you to enter a given country and is usually stamped or glued into your passport. The FMM is a card you carry with you and is used instead of a visa.
To get an FMM you will need:
Your passport (or a passport card only if traveling by land);
A completed FMM form
$638 pesos (around $32, as of January 2022). *If you are visiting less than 7 days, the FMM is free.
Who Needs an FMM?
EVERYONE who is not a citizen of Mexico or a resident cardholder needs an FMM to legally be in Mexico. Even if you are coming for a just day, or staying near the border, an FMM is required (but free for less than 7 days).
If you are from one of the countries that do not need a visa to travel to Mexico (listed below), you will still need your passport or passport card to get an FMM. (A passport card is only good for land travel. You must have a passport to travel by air.)
If you are a citizen of a country for which a visa is required to travel to Mexico, you will need to first get the visa from a Mexican consulate and then get the FMM when you enter Mexico.
Who Needs a Mexico Visa?
If you are coming to Mexico as a tourist, transiting, for business or technical activities (such as journalism or studies), will not be working, and are staying for less than 180 days, a Mexico visa is NOT required—IF YOU ARE A CITIZEN of one of the following countries:
United States of America, Canada, Andorra, Argentina, Australia, Austria, Bahamas Barbados, Belgium, Belize, Brazil, Bulgaria, Chile, Colombia, Cook Islands, Costa Rica, Croatia, Cyprus, Czech Republic, Denmark, Ecuador, Estonia, Finland, France, Germany, Greece, Hong Kong, Hungary, Iceland, Ireland, Israel, Italy, Jamaica, Japan, Latvia, Lichtenstein, Lithuania, Luxembourg, Macau, Malaysia, Malta, Marshall Islands, Micronesia, Monaco, Netherlands, New Zealand, Niue, Norway, Palau, Panama, Paraguay, Peru, Poland, Portugal, Romania, San Marino, Singapore, Slovakia, Slovenia, South Korea, Spain, Sweden, Switzerland, Trinidad and Tobago, United Arab Emirates, United Kingdom, Uruguay, Venezuela.
Also, regardless of your citizenship, if you have a valid visa from Canada, the United States of America, Japan, the United Kingdom or any of the countries comprising the Schengen Area (the area encompassing 26 European nations), you do not need a Mexico visa.
All other foreigners must obtain a visa from the Mexican consulate outside of Mexico prior to their travel to Mexico.
How to Get Your FMM
You get your FMM at your point of entry into Mexico, be that by land, sea or air.
You can obtain an FMM online prior to your trip. Note that you still must stop at the border to get it stamped, which validates it. And you must have your receipt with you when you get it stamped.
By land or sea, the process is:
If you are driving to Mexico, pull into the "something to declare" area. The INM desk/office will be near there. If you need to ask someone, ask for immigration (INM or Instituto Nacional de Migración).
If you are walking into Mexico (rather than driving), there will be a desk somewhere near the crossing area.
After locating the INM desk, fill out the form (bring a pen).
Give the form and your passport (or passport card) to the agent. He or she will ask you a few questions (like how long you're going to be in Mexico) and then fill out his or her portion of the form.
If you are staying longer than seven days, take your form over to the bank window to pay.
After paying, go back to the INM agent and show your receipt and get the FMM stamped.
By air: FMMs are usually handed out on the plane or available when you land. The cost is included in your airfare.
Important Note:
As of October 2015, there is no longer a "free zone" in which no FMM is required. The FMM is now required for all foreigners entering Mexico unless they hold a resident's card (green card). Keep your FMM with you when you are out and about as there are occasional immigration checkpoints at which you'll need to show it.
Consequences of Not Having an FMM
If you do not get an FMM, any of the following may happen:
You may be detained and then told you need to go back to the border and get one.
Depending upon your insurer, it's possible that your vehicle insurance will not cover you if you are in an accident. Check your policy.
If you need to be evacuated by air due to a medical emergency, you will have difficulty as an FMM must be presented for air travel (even in emergencies).
How Long Your FMM is Valid
The maximum duration of an FMM is 180 days, but this is entirely up to the issuing agent. They will write on the bottom of the card how many days your FMM is valid.
Although the FMM used to be good for just one entry, INM changed the rules for the border area and now allows them to be used for multiple entries. You can keep it and use it until it expires. If you come-and-go often (like for the weekends), it's convenient to get it for 180 days and keep re-using until it expires.
If you are flying out, you turn in your FMM at the check-in desk (you won't be allowed to board without doing so).
Stays Longer than 180 Days
If you plan on being in Mexico longer than 180 days, you should apply for a residency visa. There are two types, Residente Temporal and Residente Permanente. These are obtained from a Mexican consulate outside of Mexico (except in special situations). Both have minimum financial requirements that you must meet.
So, when you're planning your trip, don't forget to put the FMM on your travel checklist. Now you know to stop at the border and get your paperwork in order so that you can avoid any troubles from immigration. Enjoy your trip!