Last Minute Mexican Christmas Destinations you Can Drive to
Ok, last week was down to the wire. This week you're just pushing it—but if you still want to get to Mexico for some fun in the sun for Christmas—it's not too late. There's no better place to celebrate Christmas than Mexico. Mexicans enjoy the holiday season more than anyone, so why shouldn't you enjoy the festivities too. Add warm weather, sunrise and sunsets on the ocean, tamales and you've got paradise.
Most of these places are located in the Mexican Free Zone, which means it is not necessary to purchase a vehicle import permit to drive there. This makes it much easier for last-minute travel.
Hit one of these, close to the border, locations and you're sure to soak up sun, fun and holiday spirit.
Cuatro Ciénegas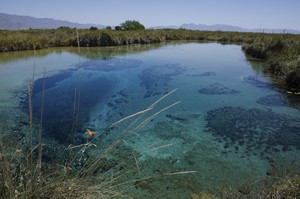 Located four hours south of the US border, below Big Bend National Park, in the Mexican state of Coahuila is Cuatro Ciénegas. Four marshes, the Spanish translation, is home to warm water natural springs that create wetlands and lakes. Surrounded by the Sierra de la Campana Mountains, you'll find the largest white sand dunes in Mexico (third largest in the Americas).
A biological reserve, the area contains small ecosystems, which are home to more than 150 animals and plants, not found in any other region of the world. Underground rivers bubble to the surface feeding the small pools of Cuatro Ciénegas. In the pools are cemented formations called stromatolites. Mostly extinct and billions of years old, they are composed of fossilized microorganisms, cyanobacteria (blue-green algae) and sedimentary soil.
A plentitude of tourist attractions are available in this area; particularly the observation of these delicate ecosystems, natural hot springs, La Dunas de Yeso (sand dunes), wine tasting and more.
Poza Azul (Blue Pond) – One of the most well know wetlands of the area, it includes public access trails and viewing platforms, and an educational visitors center.
Poza Churnice (Churnice Pond) – Get your spa on...natural hot springs, each with differing temperatures.
El Hundido (The Sunken) – a large cenote, or giant hole created by a collapsed roof of a cave. Find it in the middle of the desert in the nearby Sierra de la Campana Mountains.
Cuatro Ciénegas Valley Wine – This area is the second largest wine producer in Coahuila.
Cuatro Cienegas is a holiday experience you won't have anywhere in the world, well worth the extra mileage to get there.
Average December high: 68 degrees F
Average December Low: 42 degrees F
Ensenada
Ensenada or La Bella Cenicienta del Pacífico (The Beautiful Cinderella of the Pacific) lies on the Pacific Ocean just 65 miles south of Tijuana, on the northern Baja Peninsula. It is popular for tourism, fishing and surfing.
From Ensenada take highway 1D south along the coast for 19 miles to view La Bufadora or the blow-hole. Shooting water up more than 100 feet, it is the largest marine geyser in the world. I have viewed it from an airplane and can only imagine what it looks like up close.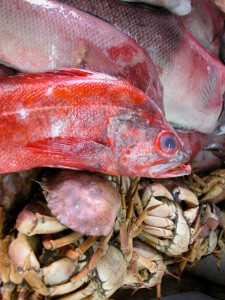 Fishing is an important part of Ensenada's economy. If you choose to take a fishing tour, there are many great catches to be had off the coast including: bass, yellowtail, tuna, albacore, Dorado and more.
Ensenada is popular for its surfing. There are several beaches to choose from. More advanced surfers may choose to take a boat two hours west to the island of Todos Santos for the big waves.
Gray whales migrate to the warm waters off the Pacific Coast to bear their young from December through May. Whale watching tours are a great way to view these magnificent creatures during their visits. On that note, nearby Guadalupe Island is also one of the best places in the world to see a great white shark.
The Guadalupe wine region (Valle de Guadalupe) is located just east of Ensenada and wine tours are available.
Depending on your likes, you can camp on public beaches or stay at a resort with private beaches.
It's impossible to be bored in Ensenada. Its enchanting history, site seeing and a multitude of places to stay, shop, clubs, activities and beaches offers something for everyone.
Average December high: 68 degrees F
Average December Low: 42 degrees F
Kino Bay (Bahía Kino)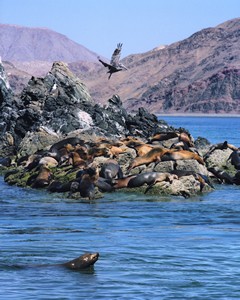 Kino Bay is located 244 miles south of Nogales on the Western portion of the Sea of Cortez, in the state of Sonora. This small beach town often gets overlooked by tourists who go to the bigger and easier to access city of Guaymas, just south. As early as the 1950s, Kino Bay still had less than 100 people and no electricity.
A fishing village for as long as history has recorded, Kino Bay was known for its fishery and later shrimp, scallop and crab catches.
Today the town boasts near 7000 residents. An old town area exists Kino Viejo, but the more popular area is the newer portion of town, Kino Nuevo. Go there for the more popular beaches, restaurants, hotels, and RV parks. No harbor or port exists, but there are two public boat ramps.
At the west end of Kino Bay are the beautiful pointed Hasteecola peaks. To the south is Playa San Nicolas with big sand dunes, where you may see some playful dolphins.
To the southwest is Isla Tiburón (Shark Island), an ecological preserve and the largest island in Mexico (464 square miles). The Seri Indians lived there for centuries, but it is currently uninhabited. Big horn sheep and a coyote subspecies, endemic to the island, inhabit its volcanic mountains. The island must be accessed by boat. You can hire a guide for about $100/day. Hiking and camping are allowed on the island, but require a permit from both the Seri Governor's office in Punta Chueca and the ISLAS office in Kino Bay.
The Siri Indian Museum is a great place to learn about the Siri indigenous inhabitants, also called the Comcaac.
Kino Bay is the place to go for solitude and beach time. It has many amenities, but much less than the other places presented in this article. Think old-Mexico...
More: RV Vacation in Kino Bay
Average December high: 75 degrees F
Average December Low: 58 degrees F
Rocky Point (Puerto Penasco)
Puerto Peñasco or Rocky Point, is called Arizona's Beach due to its close proximity—just 70 miles—to Arizona's border with Mexico. It sits on the northern tip of the Sea of Cortez, between western Mexico and the Baja Peninsula, in the Mexican state of Sonora.
When I first visited Rocky Point in the 80's it was a small fishing village with empty beaches. Today you will see high rise hotels, condos and large beach homes along with many great restaurants, and a multitude of activities to keep you busy.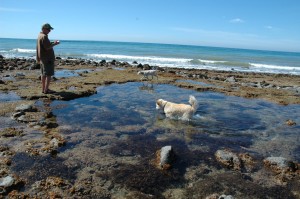 On the beach you can take banana boat rides, as well as boat rides. Also available are fishing trips, sunset cruises, Eco boat tours of the Bird Island sanctuary, dolphin and whale watching, parasailing, ATV rentals, and horseback riding.
Take the kids to Cet-Mar aquarium, a marine research center, to enjoy local sea life. Also of interest to children and adults alike is the Cedo Intercultural Center for the Study of Deserts and Oceans. Learn about the endangered Vaquita dolphin, found only in the Sea of Cortez and local sea turtle releases, as well as guided and self-guided tours.
Stroll through old-town where you can find many restaurants, art and jewelry boutiques, souvenir shops, as well as great food and drink. Also there, is the Malecon, offering great views of the Sea of Cortez. You can also purchase fresh fish in old town.
Many high end restaurants are located throughout Rocky Point, as well as more reasonably priced ones. If you dare, and I have, you can sample the outdoor taco stands which can be amazing and very affordable.
There are six different public beaches, each with its own flair. At low tide, where the sea recedes as much as a quarter-mile, tidal pools appear where you can see star fish, crab, sea anemone, and more.
With so much to do, eat, see and at short distance from the US border, Rocky Point is a no-brainer.
More:
Best Family Activities in Rocky Point
Where Gringos get pulled over in Rocky Point Mexico
First Time To Rocky Point Mexico
Average December high: 75 degrees F
Average December Low: 45 degrees F
San Felipe
Just two-and-a-half hours or 126 miles south of Calexico, California is the small, quaint town of San Felipe. Located in Baja Mexico, its found on the north-east side of the Sea of Cortez. San Felipe is surrounded by the convergence of two mountain ranges, the Sierra San Felipe and the San Pedro Martir. The peak Picacho del Diablo rises high above the town at 10,000 feet, often displaying a white snow cap in the winter months.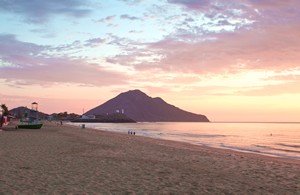 Activities include kayaking the calm waters of the Sea of Cortez- where porpoises are typically present, collecting shells when the tide recedes as much as a quarter-mile, and viewing the giant, thousand-year-old Cordon cacti. On the north end of town, access El Machorro peak to view the Valle de San Felipe, and the expansive Sea of Cortez and Martir mountains. The lighthouse, visible from all of town, is located near the La Virgen de Guadalupe chapel, where women light candles and pray for their fishermen husbands during bad weather. Konsag Island, an hour boat ride from the city, offers great fishing.
The area is known for its seafood, particularly shrimp. There are many hotels, night clubs, beaches, camping, and even a golf course.
San Felipe is a small town with all the amenities, close to the border. You can't beat it.
Average December high: 75 degrees F
Average December Low: 45 degrees F
See, it's not too late to get your Mexico on; go for it! Need more information to prepare for driving to Mexico? Here it is...