Saltillo's Summer Fair: it's not bad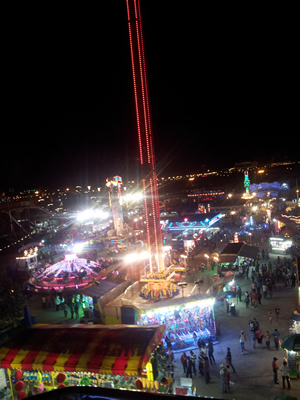 As an American having only lived here in Saltillo, Coahuila, for less than a year I often find pleasant cultural surprises in my new home town. Though the border to Texas is only about three hours away, the cultures of the US and Mexico are worlds apart. It certainly staggers in comparison to the cultural variances between the United States' other neighbor Canada.
The state and county fairs I grew up with are known internationally as agriculture shows, or a sort of trade show for all things pertaining to farms and farmers. For the rest of us it's a place to ride roller coasters, play games for stuffed animals, watch live music, and scarf down elephant ears and cotton candy. I didn't see any elephant ears at Saltillo's feria but nothing else was missing: and at 35 pesos (well under three US dollars) for admission I couldn't complain.
As an expatriate I moved here to immerse myself in a different culture, but I often find myself looking for scenery that reminds me of my home country. Mexico's summer ferias are perfect mix of the North American county fair theme and a uniquely Mexican culture center with hints of other Latin American influence.
The arts and crafts venders as well as the stop-and-go eateries come from far and wide. Merchants from all over Mexico, the Caribbean, Central America and other parts set up to sell their goods to fair goers. I ate Korean sweet bread across the walkway from a Cuban garb vender. Indigenous Mexicans also set up shop wearing their traditional clothing and selling jewelry and other crafts.
While there was a plethora of international aspects to this annual two-week festival, there was plenty of Mexican culture to go around. And that's really what I'm here for after all. Admission to the fair also includes a chance to see live music and other performers that normally you could expect to pay 200 pesos to see at a regular tour show.
At the main stage play Mexican bands that I hear every day on the radio. Groups such as Banda Jerez, Los Titanes de Durango, and Sonora Dinamita play popular genres such as: Banda, music originating from central Mexico identifiable by their implementation of brass instruments; also the more popular style of music in Saltillo's home northern region of Mexico, Norteña is easy to spot because it usually has an accordion playing; and Cumbia music originating from Columbia and Panama, has an identifiable Caribbean/Latin rhythm that's accented with maracas for percussion. Whether streaming from the performers on stage or blaring from the speakers at a carnival game, there's plenty of music to go around at the feria.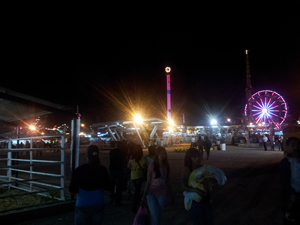 Speaking of the carnival games, this was something that deviated very little from my North American experience. Not a week before first visiting the feria I was at the Circus Circus casino in Las Vegas on vacation. I saw the same games and prizes here in Saltillo, but for a fraction of the price. And there were no token or ticket bureaucracies involved. A game that would cost two dollars in tokens to play in the US was only 10 pesos, or about 80 cents US. I was happy to see in this aspect most things were about one third the price of what I pay north of the border.
The rides are what always draw me the fair, and it's what drew me the feria as well. They were the same roller-coasters as the ones we have the US, even with the signs and marquees still in English. I could have wished to pay less for these. The kiddie rides were 20 pesos each, the upsy-daisy not-for-the-weak-stomach rides with the long wait time cost 40 pesos per person, and a romantic Ferris wheel go charged 30 pesos per lover.
The Feria of Saltillo is definitely worth your time and money to check out if you're in the area. I plan to stop by a couple more times this summer for the live music alone. It runs from July 12th to August 5th here in Saltillo, Coah., at the Teatro del Pueblo. It's also a nice consideration that the admission proceeds go to a long list of non-profit groups.
Saltillo is a city of only 650k people. Like the US the more people in the area, the bigger and better the fair. The ferias happen are all over Mexico from June to September. Inquire locally through radio, bill boards and newspaper to find your feria.