Puerto Vallarta's El Arrayán la mera mera cocina Mexicana
--the most legit Mexican restaurant (in Mexico)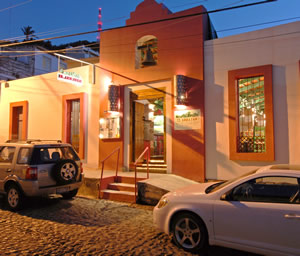 Since I'd exited the plane in Puerto Vallarta, I had been showered with delicious meals—starting with fine dining at the Emiliano Gourmet Cuisine Restaurant at the Casa Velas Hotel, beach front indulgence at the Casa Velas Ocean Club and continuing to finer dining at Café des Artistes. Needless to say, when I arrived at the El Arrayán la mera mera cocina Mexicana (i.e. the most legit Mexican restaurant) I was not hungry.
A quaint space in old town PV, colorful Mexican art covered the walls and stone floors held stout wooden tables.
Greeted by a friendly hostess, we were handed a drink menu abounding with mouth-watering concoctions. Catrina's Mohito, with fresh crushed basil leaves, vodka and grapefruit juice was all that I hoped for and more--cool, refreshing...after a hot day of snorkeling and paddle boarding. (For those of you that don't know, "Catrina" is the icon for Day of the Dead.) I had a similar experience when I tasted my friend's Mezcalitos, a mix of tangerine, cucumber, lime, hibiscus, rosemary and 100% mescal from Oaxaca.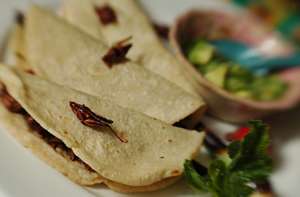 Carmen Porras, the owner of El Arrayán, came to greet us while we indulged in libations and offered recommendations for appetizers. The chapulines appetizer or Roasted Crispy Cricket Tacos was her top suggestion.
Chapuline is a word specific to Mexico and they are most popular for eating in Oaxaca, but also in areas near Mexico City. El Arrayán serves them in Puerto Vallarta, sharing the unusual cuisine of the country with those who choose to dine there. The chapulines of El Arrayán are raised in Puerto Vallarta on an organic sesame farm. When they reach the restaurant they are cleaned, sautéed with olive oil, garlic, and onion, and served on a tortilla. I have to say they are delicious, despite the crunchiness that reminds you of what you are eating. But who wants to miss out on telling the story to your friends?
Since my amigos and I shared everything (and didn't seem to care that we had overeaten the entire trip) we sampled much of what was on the menu. Other appetizers I remember enjoying included the Plantain Empanadas and both the Ceviche Guerrero and Ceviche Colima (out of this world!).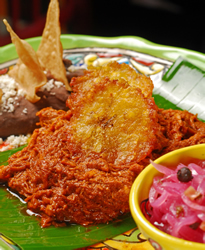 For the main course we had to try the specials--Duck 'Carnitas', Beef Barbacoa, and the Cochinita Pibil (Yucatán pulled pork leg roasted in Achiote spices with red onion-Habanero relish). With a vegetarian in our midst we got a special meal, the Cochinita Pibil made with unripe Jack Fruit. I love meat, and the meat dishes were fabulous but the vegetarian cochinita pibil was by far my favorite (to my vegetarian friend's dismay—since I ate much of it).
Of course we had to sample dessert, as well. We'd go home at some point and regret it when there was no good flan. It was worth it, as was the ice cream sampler.
I put on a few pounds on that trip, but never regretted it. I agree with the "legit" designation, la mera mera cocina Mexicana, as this was the best Mexican meal I'd ever eaten!
El Arrayán also hosts cooking classes during the Winter/Spring seasons in Puerto Vallarta. Don't miss them if you're there!