Driving Vehicles with Foreign License Plates
Driving foreign plated vehicles is often prohibited
Most countries have laws that prohibit their own nationals or citizens from driving foreign plated vehicles. Most often, the expectation is that a persons drivers license, and the license plates on their vehicle, should be from the same country. Of course, there will be some exceptions, for example, when someone rents a car while vacationing in a foreign country. However, when a person drives their own car across the border between the U.S. and Mexico, it is important to have the paperwork properly aligned, with the vehicle being registered and the driver being licensed in just one country.
Mexican nationals may run into trouble when driving foreign plated cars
Mexico is a country that also does not allow its own citizens to drive foreign plated vehicles. Save a few exceptions, when someone has permanent resident status in Mexico they cannot legally keep a non-Mexican plated vehicle inside Mexico. A lot of ex-pats who have resided in Mexico long enough to become permanent residents, have had to nationalize their vehicles by going through the process of importing them into Mexico. Once a vehicle is nationalized it can then get the required Mexican registration and license plates. Along with the Mexican vehicle registration, the driver also needs to obtain a Mexican drivers license.
It's usually not a good idea to mix and match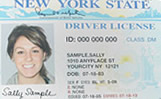 Mexican law does make an allowance when a foreign plated vehicle is brought into the country by its foreign owner. The law allows the vehicle owner's immediate family members (spouse, parents, grandparents, siblings, children and grandchildren), even if they are not also foreigners, to drive the vehicle, as long as they have tacit permission from the vehicle's owner. Although it may be legal to let them drive, there are still other considerations that could potentially cause problems.
Considerations and possible complications
Whenever someone takes a foreign plated vehicle into Mexico, they should also consider the vehicle's tourist insurance and the restrictions or exclusions that the policy may have regarding coverage. Many Mexico tourist auto insurance policies require all drivers to have a valid non-Mexican driver's license. So, even though the Mexican government may allow the exception to the rule, many insurers may still choose not to provide any coverage because of the potential complications that can arise. For example, the Mexican authorities typically will confiscate and impound any foreign plated vehicle that is found being driven by a Mexican national.
Mexico tourist auto insurance
Tourist auto insurance is designed for drivers and vehicles that are from another country. Thus, a Mexico tourist auto insurance policy is not a good fit for a Mexican driver. A Mexican licensed driver should also have a Mexican plated vehicle, and should arrange for a regular Mexican insurance policy to cover them in Mexico, not coverage that is specifically designed for tourists who are from elsewhere.
Be sure to carefully read all insurance application documentation, policy declarations, and the policy terms and conditions, to ensure you understand what things the policy will allow, along with what things the policy does not allow. If you don't understand something, be sure to speak with a qualified agent who specializes in Mexico tourist insurance to get clarification about the policy.
Are you looking for a tourist auto policy?
If you are shopping for a Mexico Tourist Auto Insurance Policy, please visit the Mexico Insurance Professionals website at: www.mexpro.com. If you have other questions or need assistance with getting a policy set up, you can call to speak with a Mexico insurance specialist agent at 855-MEXPRO1 (855-639-7761)