Tips for Taking the Fast Track Through the Mexico Border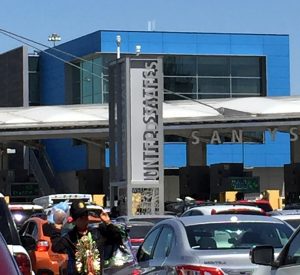 Crossing back into the USA from Mexico can be an ordeal at times. The process is more stringent than ever before, and some travelers are still experiencing unnecessary delays because of their failure to prepare in advance.
If you're planning to cross the Mexican border back into the United States, here are a few tips that should make the process as smooth as possible.
Have the Necessary Documentation Ready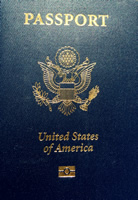 You should have a valid passport ready to present to immigration officers at the border. It takes six weeks to get a passport, and three weeks and an extra charge for an expedited passport.
If you're traveling ONLY to Mexico (no other countries during the course of your trip), and then returning to the U.S., you can travel using a passport card in lieu of a standard passport. As long as you're traveling by road, this will be enough to get you across the borders in both directions.
Skip the Lines
Unfortunately, travelers who aren't prepared for crossing the Mexico border are a major cause of delays. It is not unusual at busy times, like weekends and holidays, to spend several hours waiting to cross into the USA. Fortunately, there are a few ways to speed up the process.
Trusted Traveler Program (SENTRI)
U.S. Customs and Border Protection operates the Secure Electronic Network for Travelers Rapid Inspection (SENTRI). Being part of this program allows one to use expedited processing lanes at the Mexico border. The process involves an extensive background check and an interview, in person. There will be a fee to pay. SENTRI lanes are available at certain border locations in California, Arizona and Texas.
Ready Lanes
A "Ready Lane" is a lane dedicated for U.S. travelers with identification that contains a radio frequency identification chip (RFID). Having an RFID means the border agent won't need to type in your personal details at the checkpoint -- speeding up the process considerably. Ready Lanes are available at designated California, Arizona and Texas borders.
Fast Lanes
The Fast Lane was designed to make it easier for U.S./Canadian citizens to cross the border after obtaining medical services in Mexico. It is a single-use pass. The fast lane can be purchased at places where medical services are provided, such as dentist, cosmetic procedures. And, some hotels and restaurants offer these passes, but you may have to pay for them. Find fast lanes at some California, Arizona, New Mexico and Texas crossings.
FAST Pass
A FAST Pass allows commercial drivers to cross the border using the dedicated FAST lanes. This system is used by commercial truck drivers who make regular border crossings.
Prepare for Customs
Make sure you don't have any banned items with you, including firearms, drugs, certain animals, Cuban products and other items not allowed by U.S. Customs. There is also a list of prohibited foods and agricultural products to be aware of that include: prohibited foods include vegetables, meat and dairy items. Some meats and seafood are allowed, but not pork or meat from protected species. You can check the list of prohibited items at the U.S. Customs and Border Protection website.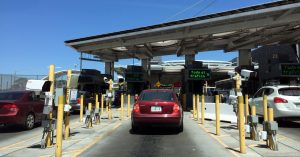 You should declare any gifts or produce you bought in Mexico on your return to the U.S. You are allowed to import certain restricted products in limited amounts:
60 cl of perfume
200 cigarettes
1 liter of spirits
2 liters of wine
50 cigars (not Cuban)
You should declare any prescription drugs obtained in Mexico, and make sure they are not prohibited.
If you're prepared with the necessary documentation and declare the purchased goods, your return to the United States should be faster and relatively painless.