Where to Stay in Rocky Point
Going to Rocky Point? Whether you are a student looking for a good time or looking for a peaceful getaway with the family, there are many options for places to stay in Rocky Point. You may be looking for a hotel on the beach or just want to be where the action is. Maybe you want to be close to good restaurants and bars, or shopping—it's all available.
Students – Mirador Beach
Students, Mirador Beach is the place for you. Known for its Spring Break party scene, Mirador Beach hosts a bunch of medium to low cost hotel/motel options. There are several RV parks also. During popular holidays the bars open up and the area comes to life, unlike during weekday excursions. Mirador beach is located east of town and extends to Las Conchas beach, allowing for extended beach combing, volleyball, bon fires, walks and more. During low tide there are many big tidal pools, great for sea creature hunting.
These two hotels are several blocks from the beach, but look a little newer than some directly on Mirador beach. They are located on Avenue Sinaloa, north of the beach. There are a few restaurants nearby, including the famous Al Capones, and a bar.
| | |
| --- | --- |
| | Playa Inn |
| | Hotel Plaza Penasco – with security gate. |
These hotel/motels are located either directly on the beach or across the street, on or just off of Calle Mariano Matamoros (the main street that parallels Mirador Beach). These are described from East to West. There are several bars and restaurants on Calle Mariano Matamoros, most notably Sandbar, the Pink Cadillac, Elixir and Pikaros Tacos & Beer.
| | |
| --- | --- |
| | Motel Granada Del Mar – Located on Avenue Sinaloa, just south of Calle Mariano Matamoros, behind the Playa de Oro RV park. |
| | Plaza de Oro RV Park |
| | Hotel El Mirador |
| | Costa Elegante |
| | Hotel Baja |
And Fiesta de Cortez is located on Avenue Campeche (no photo).
Students - Malecon
The Pasada La Roca Hotel is located at the far end of the Malecon. There are tons of restaurants, bars and shops in the old part of town. It's a great party spot, as you are in the center of it all. The only downside is, there is no beach.
Vina Del Mar Hotel is also at the Malecon, three blocks away.
Students/Families – Sandy Beach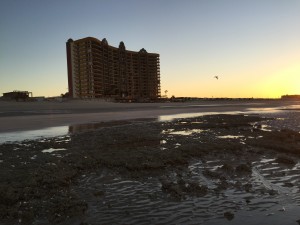 Sandy Beach is one of the nicer beaches in Puerto Penasco. It is a very long beach with lots of activities: swimming, banana boat rides, kayak rentals, paddle board rentals, volleyball, long walks and so much more. All the hotels/resorts are located right on the beach.
The nicer hotels include Hotel Penasco del Sol, Best Western Laos Mar, Las Palomas Beach and Golf Resort (see photo), Sonoran Sky Resort and Sonoran Sun.
Playa Bonita Resort is less expensive than the other resorts on Sandy Beach.
There are less restaurants and bars on Sandy Beach than the other places, but they are there—either in your hotel or nearby. Town is not too far away, as well. Taxi cabs are usually available outside the gates of the resorts. Be sure you don't leave anything in the cab before you get out. Locals warned it could be difficult, if not impossible, to retrieve what you may have left.
For All - Home/Condo Rentals
Cholla Bay and Las Conchas are good places to rent homes and condos. There are two restaurants in Cholla Bay and one of them has bar, JJ's Cantina. JJ's has a great patio that looks out over the bay.

Main Town Area
There are several affordable options around town. Here are a few I found that looked nice. They include: Hotel Palma del Oro, Hotel Paraiso, Motel Penasco, Hotel "Rosa del Desierto".
Outlying Areas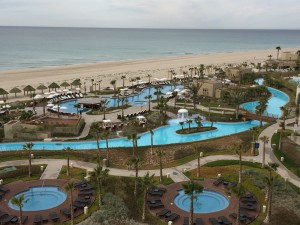 The Mayan Palace is a resort about 30 minutes from Puerto Penasco proper. The price is on the high end, but that's what you get with a private beach, golf course, a play area just for kids and a couple great restaurants.
Rocky Point has numerous options for places to stay, one that will fit every person and budget.