Mexico Weather: Planning your Vacation Attire
Planning for the weather in Mexico
Many will say that Mexico has just two seasons, rainy and dry. The rainy season typically starts sometime in May and runs through late September to early October, with the remainder of the year being mostly dry.
Hurricane season usually begins in June, and usually continues into November. Just like the migratory birds that fly south each year, many people choose to vacation in Mexico during the fall and winter months, to escape frigid temperatures.
Check the weather before you go. Use any weather websites, like Weather.org, Weather Underground, or The National Weather Service.
Mexico has many different climate zones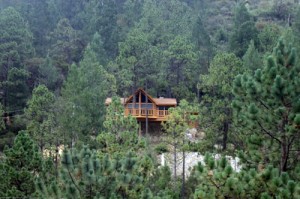 Mexico is almost three times the size of Texas, covering nearly 742,490 square miles, and has almost 5798 miles of coastline. With so much territory, the weather can vary quite a bit depending on which particular region you visit. From its many high rugged mountains and plateaus to its low lying deserts and coastal plains, Mexico's terrain is a lot more than just continuous sandy beaches.
While the temperatures at sea level tend to be warm to hot year-round, there are many places with higher elevations that get much cooler temperatures. So, if you are planning a visit to the highest peak in Mexico, Volcan Pico de Orizaba (a.k.a. Citlalt petl), which has an elevation of 18,491 feet above sea level, you'll want to be sure to bring along some cold weather gear.
Casual, cool, comfortable clothing is common
If you are going to a beach resort in Mexico, you'll want to bring along a swim suit, sunglasses and some flip-flops, so you can visit the pool. If you plan to attend any formal events during your visit, then dress attire may be needed, but otherwise, casual clothing is what most people wear while visiting Mexico. Light-colored, light-weight, loose-fitting items, that are made of natural fabrics, are more likely to keep you cool and comfortable on hot humid days.
It's still a good idea to bring along a sweater or light jacket, just in case it gets cool during the evenings. And if you go during the rainy season, some light rain gear will be useful too. Don't forget to bring some comfortable walking shoes, so your feet won't suffer too much, when you spend hours strolling through the colorful "mercados," looking for that perfect souvenir to take back home.
Top it all off by putting a hat or sombrero on your noggin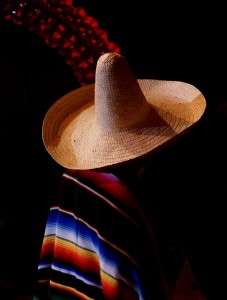 For protection against the elements, a hat is a great item to bring along on a trip to Mexico. The word sombrero is derived from the Spanish term sombra, meaning "shadow" or "shade." With so many sunny days in Mexico, it is no wonder that the wide brimmed sombrero has remained so fashionable for so long. However, the extra wide-brimmed version that is favored by many mariachi musicians is considered by many to be too heavy and unwieldy for practical everyday use. Still, today there remain many ranchers in Mexico that choose to wear the sombrero, over its smaller cousin the cowboy hat, for its excellent sun shielding capabilities. Of course, a sombrero can be a difficult thing to pack into a suitcase, so you may wish to opt for a smaller baseball cap or buy one when you get to Mexico.