Mexico Shopping Excursions
Last Updated: August 4, 2021 by Mike Mercer
Categories:
Shopping Across the Border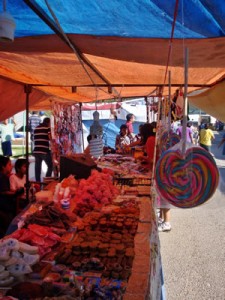 Having grown up in Southern Arizona near the Mexico border, cross-border shopping trips have long been one of my favorite ways to while away the day. My family, friends and I all have many fond memories from numerous day trips we have taken across the border into Mexico, to stroll around the mercados (markets) searching for outstanding gangas (bargains). There are all sorts of interesting, unique items that can be picked up in Mexico--often at a fraction of the cost that one might find back home. There are typically great deals for leather goods: sandals, moccasins, boots, hats, jackets, belts, purses, wallets, jewelry and furniture. There are seemingly endless selections of tchotchkes, curios, masks and figurines made out all kinds of materials, including: wood, metal, glass, and paper-mâché. Mexico is also world renowned for its often colorfully painted ceramics and dinnerware. Woolen blankets, serapes and baja hoodies are also popular items to carry home. Lots of Americans routinely visit Mexico border towns, lured by the potential savings of low cost dental care, eyeglasses and prescription drugs. There are also many who routinely cross the border to get great deals on liquor and cigarettes.
Safety Recommendations
The recommendations for keeping you and your family safe while embarking on a cross-border shopping adventure are still pretty much the same as they were decades ago. As a matter of fact, they are the same safety recommendations that are commonly given to people who are traveling to many parts of the U.S. First of all, the old adage of "there is safety in numbers" is an excellent piece of advice. By opting to travel with a large group of people, you can help to deter unwanted run-ins with unsavory types. It is best to do your shopping during daylight hours, but if you should find yourself out and about after the sun has set, then you'll want to try to remain in only well-lit and well populated areas. Overindulgence in alcoholic beverages can not only lead to a hangover, but also makes you an easier target for would-be muggers and pick-pockets. You'll also want avoid becoming involved in any and illegal or illicit activities, such as possession of illegal drugs, possession of guns or knives (including small pocket knives), or driving under the influence. It is also important to know where you are going and try to avoid traveling through any known dangerous areas.
Before Crossing the Border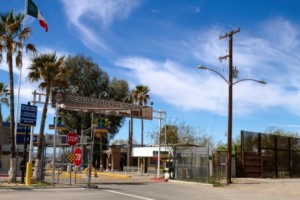 The U.S. Department of State provides some very helpful information for travelers who are planning to make trips outside of United States. If you are planning to travel beyond the free zone, you will need to obtain a temporary vehicle import permit. Mexico allows the permits to be purchased online through the Banjercito website, at the border, or through several of the Mexican consulates. If you are planning to drive your vehicle across the border for day of shopping, be sure to purchase short-term Mexican auto insurance from the Mexico insurance professionals.