Should You Get Dental Work in Mexico?—One Man's Experience in Tijuana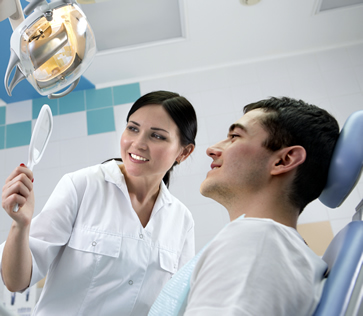 The last time I went to Rocky Point I noticed a lot of really nice looking (on the outside, since I did not go inside) dental offices there and on the border in Sonoyta. I am aware that many Americans choose to hit the border for affordable dentistry, and have done a little reading on it. We even have an article written by a former Mexico correspondent, Al Barrus, describing his experience in Saltillo.
However, I wished to know more about dental work done on the border, since its closer for many Americans. Last week, while sick and browsing Facebook I saw a post by my friend, Erik Wolfe, raving about how little he paid and how happy he was with a dentist in Tijuana. I jumped on the opportunity to get the details and present them on our blog. If you are curious, read on.
What dental work/procedure did you have done in Mexico?
I had a root canal. I needed a crown, but before you get a crown you have to get a root canal. The price was going to be $1100 just for the root canal, and require a long drive from the small town where I live to a larger town 200 miles away; the closest place that offered the services.
What was the cost in Mexico?
$250 for the root canal, plus $25 for a complete analysis and full X-ray diagram of my mouth; a total of $285. Afterwards the X-rays and a comprehensive report, as well as additional work I might need was emailed to me.
How did you decide to go to Mexico to get your root canal?
I was complaining about the cost of US dentistry on Facebook. I don't have insurance so would be responsible for the cost. A couple of my friends responded and said they had gone across the border several times for dental work and were really happy with it. One of them invited me to join him on a trip to Tijuana to get the work done.
Where did you go in Mexico to get your teeth worked on?
My friend had gone to "Dental Brush," a dental office in Tijuana (offices in Mexicali, as well)—which he said were very professional and thorough. Their business card says they are the best dentists in Baja.
How did the Dentist know what to prepare for before you came down? What information did you provide them?
I talked to a sales person on the phone before I had the work done. He spoke fluent English and set up my appointment. I told him I needed an endodontist and he said they had one on-site, so it was not a problem. I never felt like I was getting a hard sell on the phone.
How long did it take you to get to Tijuana?
It took six hours to drive there from my home in Bishop, California. My friend and I drove together in an economy car—so the drive was inexpensive. Parking right on the border cost $7 for 24 hours.
What was it like getting across the border?
Passports are required to get across, but my friend was allowed to enter with his Driver's License (though he was told he would not be allowed to again).
My travelling partner told me to be sure and tell Mexican customs agents that you are crossing the border for "dental tourism," as it helps avoid any hassles.
What did you do once you got through customs?
We crossed the bridge into Tijuana and it was just a 10-minute walk to the Dentist. We were given written directions ahead of time on what to do at the border and how to get to the Dentist office
What happened when you got to the office?
Once inside, the office was very large, comfortable and we received a big welcome. The staff was very professional.
The first thing they did, right away, was take a full X-ray of my mouth. Afterwards, I waited in the room for 20 minutes or so for the results. After the salesperson had discussed my results with specialists, who I believe he contacted via the Internet, he came into the room and gave me a presentation on a computer screen, providing a full rundown on the work I needed done. I was allowed to ask questions, etc. and then decide which work I would have done that day. Again, no hard sell.
The friend I traveled with was quoted $6500 for all of the work he needed, compared to $22,000 in the US.
How long did you wait for the procedure?
I didn't realize this beforehand, but I was there at the beginning of Semana Santa, which is the second most popular Mexican holiday. Most stores are closed and there's a lot of celebration in Mexico. I assume this is why endodontist was late to the appointment. So I waited for an hour before she showed up.
Tell me about the root canal you had done.
Once the endodontist arrived, I was taken into the treatment room, it may not have been quite as clean as a US dentist's office, but I was certainly comfortable with the cleanliness. All the dental tools were shrink wrapped and the endodontist had to open them.
She spoke fluent English and asked if I had any questions. She answered them. Then she then took three more X-rays to confirm the root was dead. I hardly felt any pain when she injected the Novocain straight into the root, despite not using any pre-anesthetic.
It took several tries to get me numb, but I have had issues in the past getting numb, so this was not unusual.
The endodontist was totally at ease during the entire procedure. She seemed very competent and comfortable with her abilities. And this made me more relaxed.
How long did it take?
Just over an hour.
Any follow up?
The dental exam information was in my email Inbox when I arrived home.
So what's your overall feeling about going to the Dentist in Mexico?
It was great, professional, and affordable. The staff was friendly, knowledgeable, and competent. I am completely satisfied.
My feeling is that the Dentist offices in Mexico know they are competing with those in the US. They know they will not last long if they don't provide excellent service. They are required to have a level of competence to keep getting clients and money.
There are risks involved. You are not going to be able to sue for poor dental work. Therefore, I think it's important to get a word of mouth recommendation or look for reviews (Yelp) before you go.
So what happened with your crown?
Some friends indicated to me that the dentists in the US can easily tell when a crown has been done by a Mexican dentist. This concerned me a little, so I did get my crown done in the US a couple weeks later.
Did your dentist notice anything about the root canal – that may have been different than someone would do in the US?
He was scared enough to do an x-ray, and amazed at the cost. Apparently, they used a "strong" adhesive, which doesn't surprise me as people who seek discount dental work may not stay on exact schedules for a crown replacement.
Will you go back for other dental work you might need?
I am, in fact, going back for more dental work!
If you're not sold yet, here are a few comments made by Erik's friends on Facebook, which I feel confirms the experience he had.
"We used to have a friend from Mexico City who always raved about the quality of Mexican dentistry."
"Poke around for reviews - I've been down more than a few times including a root canal and crown. Dentists change but the experiences were always good. I might add that my MX crown is in great condition and was out of the lab within one day (vs. weeks in the US). Also, my US crown needs replaced...whereas my MX does not. Go Figure. 3 hours from Phoenix..."
"Good overall health care in MX too!"
If you are considering dental work in Mexico, Erik's story may help you decide. It sounds like a good deal, especially if you don't have Dental insurance (and in some cases, even if you do). Erik saved $840! It's hard to beat that! Thank you Erik for sharing your experience!