Mexico Independence Holiday September Fifteenth
Last Updated: August 20, 2014 by Mike Mercer
Categories:
¡El Grito de Dolores!
Mexico's Cry for Independence came from Dolores
On September 15th, at the National Palace, in Mexico City, at 11 pm, the President of Mexico, will ring a bell and shout out a Mexican cry of patriotism, "¡Viva Mexico, viva la independencia!" Mexico's Independence holiday celebrates the Grito de Dolores ("Shout of Dolores"), historic event that took place in 1810, when Father Miguel Hidalgo y Costilla made a call for the people to revolt against the Spanish rule that had been over Mexico, for more than 300 years. The cry for independence, from the small town of Dolores, marked the beginning of the Mexican War of Independence.
Celebrating Independence Day in Mexico
Mexican Independence Day celebrations take place throughout the entire country of Mexico, typically with parades, rodeos, bullfights, music, dancing, fiestas, and fireworks. The biggest celebration takes place in the nation's capital, Mexico City, but there are also some excellent celebrations that take place in a few historically significant locations, including: Dolores Hidalgo, Guanajuato, where Father Hidalgo made the famous Grito de Dolores; Santiago de Queretaro, Queretaro, where Josefa Ortiz de Domínguez, along with fellow conspirators, made plans for independence; and San Miguel de Allende, Guanajuato, the birthplace of Ignacio Allende, who fought alongside Father Hidalgo.
Mexican patriotic foods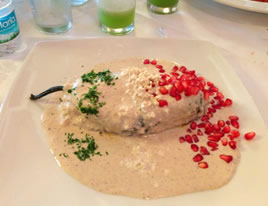 The holiday is also celebrated with lots of great tasting Mexican foods, including the patriotic dish, chiles en nogada, which is made using a picadillo stuffed green chile that is covered in a white walnut sauce, and then topped with red pomegranate seeds. In addition to the green, white and red foods; tamales, enchiladas, tacos, pozole, buñuelos, dulces, atole, and many other traditional food dishes and beverages, are often included in Mexican Independence Day celebratory feasts.
Road trip to celebrate Mexico's Grito de Dolores
If you are planning to drive down to Mexico this September, to celebrate El Grito de Dolores, be certain to make arrangements for a dependable tourist auto insurance policy to cover you, and your vehicle, in Mexico. U.S. and Canadian liability insurance coverage stops at the Mexican border, so it is important to purchase a policy that will provide proper liability coverage inside Mexico. Look for a policy that includes coverage for the medical expenses of the driver, and other occupants of the insured vehicle. While a liability only policy can be a less expensive option, most people who drive south of the border elect to get the best Mexico coverage available.