Best RV Parks in Northern Mexico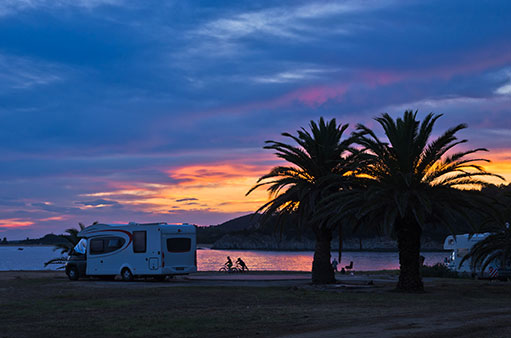 You've packed your bags, you've fueled up the RV, and you've purchased car insurance for Mexico. Now what? It's time to select the stopover destinations for your next trip. Luckily for you, the northern states of Baja California and Sonora are popular with snowbirds flocking down from the U.S. en route to warmer climes, meaning there are plenty of RV parks to suit your needs. These are some of our favorites, which combine beachfront access with all the necessary amenities—plus a few extra perks.
Ensenada, Sonora
Travelers heading south from California often end up in Rosarito or Ensenada, two cities on northern Baja's west coast. Approximately halfway between the two, at kilometer marker 70.9, the Clam Beach Resort is the place to go for RV travelers seeking a modern facility. With full hookups (water, electricity and sewer service) and laundry facilities, it even has wifi and a clubhouse.
Although Clam Beach is approximately 45 minutes from both Rosarito or Ensenada--the closest large towns, where you'll be able to really stock up on groceries and personal effects--it's a worthwhile destination for its beachfront locale and wide spread of nearby attractions.
Sport-fishing excursions depart from Marina Puerto Salina, one-mile away, and Bajamar offers 27 holes of golf. Foodies can visit the lobster capital of Baja, Puerto Nuevo (a 15-minute drive north), where you'll find lobsters pan-fried local style and served with beans, rice and homemade flour tortillas. The Valle de Guadalupe, meanwhile, is a wine-lover's paradise located within 25 minutes of Clam Beach.
Open year round, Clam Beach Resort is both tent- and pet-friendly. Daily rates start from $30 U.S.
Rocky Point, Sonora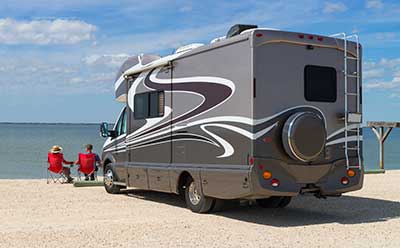 Commonly known as Rocky Point, Puerto Peñasco is a great pitstop for RVers making the drive south from Arizona. (It's about an hour south of the border.) Situated at kilometer 3.7 on Camino La Cholla, near the point just north of town, The Reef RV Park is positioned right on the beach.
Notably, it's ideal for even the largest of vehicles. Extra-large spaces and 50-amp voltage set this park apart from comparable options in the area. The onsite store vends basic items, and it's just a quick drive into the heart of Puerto Peñasco, where you'll find more amenities and larger stores, such as a Super Ley market. You can also find great seafood (eat out or take home), bars, deep sea fishing and more.
Full hookups are included with the site fees, with 50 amp available at all Beachfront Deluxe sites. The Reef also offers free wifi, showers, and 24-hour security to make your stay more comfortable. Regular sites start from $26 U.S., and Beachfront Deluxe spaces go for $50/night, with a four-night minimum on the latter. Never want to leave? They accept long-term reservations (and RV storage, too).
Guaymas, Sonora
Although Guaymas is on many folks' Mexico hit list, RV camping options are more limited in the town itself. In nearby San Carlos, however, you'll find Totonaka. Located just off highway 124—keep your eyes peeled for their red signs out front--Totonaka is 18 kilometers from neighboring Guaymas. It has direct beach access and is also just a few minutes' drive to markets and other amenities. Plus, there's a restaurant and bar onsite.
The RV park has full hookups for any size vehicle, as well as coin-operated laundry facilities, swimming pool, free wifi, and--here's the clincher--cable television. Daily rates start at $24 U.S. for 1-2 people, and Totonaka offers RV storage to boot. Plus, pets and tents are welcome.
No matter where you end up on your RV trip to Mexico, one thing's for certain: spending time in Mexico is a must-do item on any snowbird's bucket list.