Celebrating Navidad in Southern Mexico
If you're planning on taking a vacation to Mexico for Christmas, you're in for a treat, because this country hosts fun festivities for nearly a whole month! The Christmas season here basically begins on December 12 and doesn't end until January 6, giving you plenty of time to celebrate with family and locals alike. Here's what you can expect from Navidad in Mexico, particularly if you're headed to the southern part of this country.
Major Events To Look Forward to During Navidad in Mexico
Día de la Virgen de Guadalupe
If you're not sure when to plan your vacation, consider coming early in the month of December, as festivities start with Día de la Virgen de Guadalupe on the 12th. This holiday honors Our Lady of Guadalupe, which is the Catholic title of the Virgin Mary, who is reported to have appeared to Juan Diego on December 12, 1531 in Mexico. This apparition is celebrated by several cities setting off fireworks and hosting parades, complete with live music from mariachi bands and the purchase of sweet treats like buñuelos—which are fried fritters topped with sugar or syrup.
Las Posadas
If your holiday in Mexico begins on December 16, you can watch las posadas, or processions in which children and adults go from door to door of decorated houses while singing and holding candles. The point of las posadas is to reenact how Joseph and Mary had to find a place to stay in the Christmas story. Las posadas take place from the December 16th to the 24th, and every evening ends with a fiesta!
Nochebuena
Nochebuena is Christmas Eve in Mexico, and it's also the last day of las posadas. After the final procession, most families go to midnight Mass together. After that, a Christmas meal is served, usually featuring roast turkey, pork, pozole, tamales, salad, and more, topped off with a dessert called buñuelos--sweet, fried dough flattened into discs! Note that since Nochebuena is so filled with festivities—and runs so late at night—Christmas Day tends to be calm and quiet in comparison.
Día de Los Tres Reyes Magos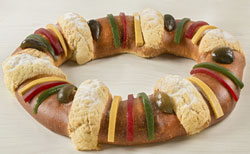 The holiday season in Mexico doesn't end until January 6, on Día de Los Tres Reyes Magos—or Three Kings' Day. This is when children get gifts, symbolizing how the three wisemen brought gifts so long ago. Additionally, everyone shares Rosca de Reyes, which is a sweet bread in the shape of a wreath. Before taking a bite of the bread, you have to check it for a hidden baby Jesus figure. Whoever finds it is tasked with buying tamales for the Día de la Candelaria party on February 2--which is a Catholic holiday that marks the end of the Epiphany season, 40 days after Christmas. So you might need to plan another vacation to Mexico if you find the baby Jesus!
Is Santa Claus Part of the Christmas Celebration in Mexico?
Santa Claus is not a major part of Navidad in Mexico like he is in the US and Canada. In fact, traditionally, most children here get their Christmas gifts on Día de Los Tres Reyes Magos, when the wisemen bring them. They write a letter to the Reyes Magos, tie it to a balloon to send into the sky, and then leave a shoe on their windowsill to collect the presents.
This is still largely the case in Southern Mexico. However, in other areas of the country, Santa Claus has become more popular. So now some children get gifts from Santa on Nochebuena, as well as gifts from the wisemen on January 6.
Decorations & Food to Expect During Christmas in Southern Mexico
When you spend the holiday in Mexico, you'll see lots of poinsettias, or Flor de nochebuena, though you'll see the occasional Christmas tree, too. Additionally, life-sized nativity scenes—called Nacimiento—are extremely popular at this time of year, as they're set up on the first day of las posadas on December 16. Baby Jesus is added to the Nacimiento on Christmas Eve, and the three kings are added on January 6.
One of the best parts about Navidad in Mexico is the food! Some traditional dishes include tamales, pozole, buñuelos, and bacalao—or dried, salted codfish. There's also Ponche Navideño, which is hot, spiced Christmas punch. In addition, Ensalada de Noche Buena is a special salad with vegetables, fruits, nuts, and seeds served on Christmas Eve.
Best Places to Spend Your Southern Mexico Holiday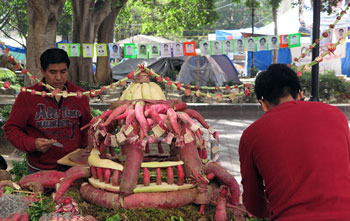 If you're considering a southern Mexico holiday, know that many areas here have their own ways of celebrating. For instance, Oaxaca hosts Noche de Rábanos, or Radish Night, on December 23rd, where the main event is a radish-carving competition!
In Colatlán, Veracruz, you can attend La Cascada del Huapango from December 24 to 30. At this holiday event, you can watch Huapango folk dances as a son jarocho band plays live music. And in Chiapas, from late November to December 15, you can find Christmas festivities--from traditional dancing to ice skating--all around the state when you attend the Feria Chiapas.
As you can see, you'll have plenty to do when you spend your winter holiday in Mexico. Just be sure to buy Mexican auto insurance before your trip if you're planning to drive!