Alan Kohl on this Year's 2013 SCORE Baja 1000
Racer Robby Gordon (of NASCAR, INDY CAR, and BAJA fame). We changed his blown tire. He finished 6th or 7th overall.
I got the opportunity to talk to Alan Kohl this past week about the Baja 1000, which was run just over a month ago. This year's 2013 Tecate Score Baja 1000 was Alan's 30th consecutive 1000! Alan took the time to detail the process by which the race is run, something I knew little about, and some of the highlights of this year.
I did not know the motorcycle classes started the race well before the 4-wheeled vehicles. First the experts and then the amateurs cross the starting line. Alan explained that this is for the safety of the motorcycle racers.
"Even with that head start the faster 4-wheeled racers catch up with the slower, amateur class motorcycle racers, creating a very dangerous situation for those motorcyclists.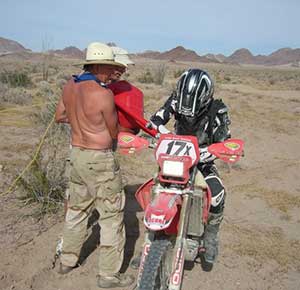 In April I 'chased' for a race team in the NORRA Mexican 1000 (Mexicali to Cabo San Lucas). This race is run in a rally format, with a stop each night. On day three of the race we were waiting to provide pit service to the race car we were chasing when we learned of the death of an amateur motorcyclist just a couple miles up the course from us. He was in a particularly rough part of the course and became exhausted. Instead of pulling well off the race course, he stopped in the middle of the course...out if the middle of nowhere. He was struck by a 4-wheeled race vehicle that thought it had enough space to get around him. The accident broke his femur artery and he bled to death.
As a result of this accident and many near misses over the last few years, the motorcycles started the 2013 Baja 1000 at 11:00 PM on Thursday 11/14 and the four wheeled races started at 9:00 AM the next morning. Even with that huge lead, some of the slower motorcycles were passed by the faster trucks on Saturday."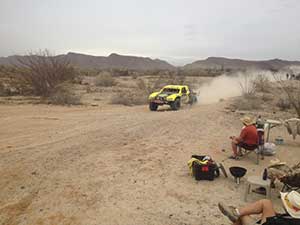 Because the terrain is so harsh, SCORE tries to keep track of the racers using tracking devices. Thus they are able to find the racers more easily in the event of an emergency or other mishap.
"The race teams are required to rent a satellite tracking unit from SCORE and a SCORE technician must install the unit during technical inspection the day before the race.
The tracking unit is attached the race vehicle (2 and 4-wheel), so anyone with access to this system via the Internet, such as emergency responders, chase/support crews, pit crews, race officials, and race fans, would be able to monitor the progress of a specific racer throughout the race.
The trackers also used to detect speed violations. When the race course uses part of public highways (paved) SCORE imposes a speed limit on the racers so as not to endanger civilians going about their daily lives. If a racer exceeds the speed limit, SCORE penalizes him/her by adding minutes to their actual elapsed time.
They also use the trackers to find racers who may be cheating by cutting the course.
The race organizer (SCORE International) sets up a communication network at an observatory on top of Mt. Diablo, the highest point in northern Baja. It is sufficient for radio coverage over almost the entire race course. This communication center goes by the name of the 'Weatherman'. It allows SCORE to deal with medical emergencies that inevitably occur and also allows race support teams to find their race car if they lose radio contact using their own equipment. It also allows race drivers to get messages to their race support team if needed.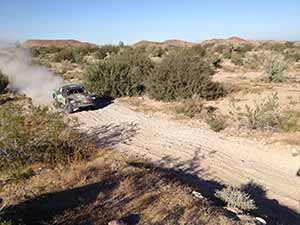 SCORE had negotiated to have Internet service provided via the observatory's ISP throughout the duration of the race. This allowed SCORE to sync radio communication with the tracking of the race participants. Unfortunately, this service was cut off by the observatory very early on Friday 11/15, thus SCORE lost the ability to know where racers were on the race course.
In addition to the loss of Internet service, the Weatherman channel was not able to communicate with SCORE Operations, which manages the race. As a result, there were frequent long delays and garbled communication between the key race communication center (Weatherman) and race management (SCORE Ops). This resulted in delays getting to accidents on the course, misdirected helicopter support, etc.
In anticipation of a loss of radio communication, SCORE had contracted Hughes Communications to set up a satellite telephone back up. This, too, failed. The sat phones provided to the people in the communication center did not have antennas and the people trying to use them were not given passwords.
In all the years I have attended these races and listened in on our race radio, I have never seen such a communications screw-up.
Late afternoon Friday 11/15, some 750+ miles into the race, motorcycle 2X was reported to be one minute ahead of 1X. Since 1X left the start line the previous night one minute in front of 2X, this means that 2X had passed 1X. Shortly after that someone reported that 1X just passed them...but there was no report of 2X going by. A frantic search began, looking for 2X, made much more difficult because his tracking unit was not working. The Weatherman channel went silent on the situation. We did not learn until we got home Saturday 11/16 that 2X had crashed and suffered fatal injuries.
There still exists a fair amount of confusion about what happened, why it took so long to locate 2X, etc., but it is well know that the sooner someone receives aid the greater are their chances of survival.
As a result of this situation, SCORE announced that in future races motorcycles must be equipped with two tracking units. The hope is to have a backup if one fails."
An unfortunate mishap, we are sad to hear about that.
Alan and his buddies choose a camping spot off the main race course where they watch and listen to the race in its entirety, sleeping under the stars. Here's a little about how they choose their site and what's involved...
"The closer we are too the start line, the more racers we will be able to see. Said another way, attrition takes a toll and we want to see as many racers as possible.

Because the nights are quite cold in November, we prefer to camp on the Sea of Cortez side of the Baja Peninsula, at the lowest elevation possible. (I have woken up some mornings with frost on my sleeping bag)

And because of the cold nights, we light a fire each evening as the sun is going down. But where do you find firewood in the desert? Google Earth provides the answer. We use it to locate washes that are forested with Ironwood and Mesquite trees. These desert trees do not die all at once like an Oak or Pine tree. Rather, individual branches die, while the remainder of the tree continues to live. We break off these dead branches for our campfires.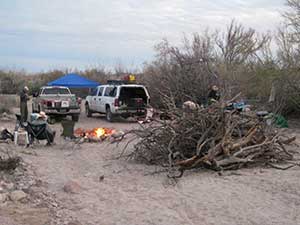 The first thing we do after locating our camping place is to dig a fire pit, at least five-feet across and about three-feet deep. We carry in large rocks to line the top of the pit to keep sand from cascading into it. Then we put on long sleeves and heavy gloves and start collecting firewood. We often use a tow strap hooked to a 4x4 pickup to break off very large branches from the Ironwood and Mesquite trees, and drag them back to camp.

For sleeping, I throw a plastic tarp on the ground, upon which I put a 3-inch thick foam pad, upon which I put my sleeping bag. No tent, no camper. Just the beautiful Baja stars! Lately some of my buddies have been bringing huge air mattresses, but they inevitably get punctured, so they are gravitating to cots. I may try that next year as my 70-year-old body finds it increasingly difficult to get up in the cold mornings.
After breakfast the next day we set up a horseshoe pit, and start a five day tournament. We have tables set up for the boom box, which is powered by deep cycle 12 volt batteries. We even have an official score board to keep track of the score during each game, as well as a clipboard with a form that tracks the number of games each of us wins during the week. At the end of the week we tally the wins and name the champion, who is given the trophy helmet...see photo (Herradura is the Spanish word for horseshoe).

"
What are your thoughts on this year's race and how your overall experience compared to past years?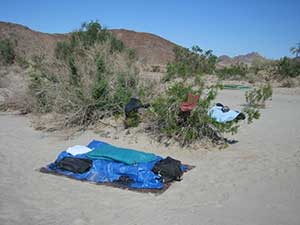 "From a racing standpoint this year's 1000 was as good as other years. Drivers said it was the roughest course they have seen in many, many years...which is exactly what they want. These guys like it rough and they understand they are not signing up for 'touch football.' It is unfortunate this race was marred by the avoidable communication problems experienced by SCORE. It made it more dangerous by virtue of not being able to locate a racer who wrecked. It made it very inconvenient for chase teams and racers when the tracking system failed. If a race car doesn't show up at a pre-set pit stop or support point, the chase and pit guys, including family of the driver and co-driver, begin to fear the worst. I heard one lady making appeal after appeal to the Weatherman to tell her where her husband's race car was. After trying to get through for over an hour she was finally told that he had not come through a certain checkpoint. Problem was, he not only came past that checkpoint, but he met his chase team 50 miles south of that point for service, and then continued on south. SCORE didn't even have him passing that point where his chase team last saw him.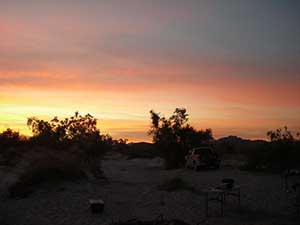 It sounds like Alan has no intention of slowing down on his Baja 1000 trips, even at age 70. And we're glad because we love getting the low-down from him. Thanks Alan for the update!