Tips for the Best Rocky Point Adventures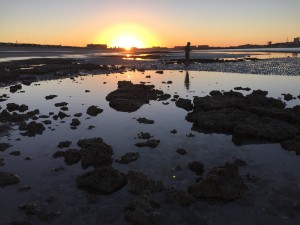 Have you heard of, or are you considering heading down to "Arizona's Beach" (AKA Rocky Point or Puerto Peñasco) for Spring Break or Easter? It's getting down to the wire for making plans and I have a stack of helpful information and tips to help you plan your trip. Don't think I haven't done my homework either...I spent a week there earlier this February talking to locals and romping around town, having my own experiences.
Whale watching, ATV riding, beach combing, swimming and hot tubbing every day, was a part of my trip. But also I enjoyed great seafood and affordable everything, really. So if you're considering Rocky Point, your best bet for a good time is use these handy tips.
How long does it take?
From Flagstaff it's 350 miles to Puerto Peñasco (about 6 hours—though most people say it's 5-1/2 and that was my experience, but I took the 303 West in Phoenix). The distance from Phoenix and Tucson are about the same, 215 miles or 3-4 hours.
Driving down
I'll leave it to you and Google to figure out the best way there, but basically you get on AZ Route 86 until you get to Sonoyta, where it turns into Mexico Highway 8. The gas got more expensive the further south I went. And even in Mexico, I found the gas a bit more expensive than Phoenix.
Conquering the Border
All you need is a passport to pass through the border. Rocky Point is located in the 'Hassle Free Zone', which means you don't have to get a Temporary Vehicle Import Permit, go through Customs, or get paperwork checked. This is another great reason to go to Rocky Point. Remember that you are required to have Mexico auto insurance and a driver's license to drive in Mexico.
Watch Out For
Once you get over the border obey the speed limit. Puerto Peñasco locals warned of the Sonoyta police, who are strictly enforcing the speed limit. If you do get pulled over, avoid the mordida (bribe) and have the policia take you to the judge, where you will get a better settlement and it is safer.
The speed limit in Sonoyta is 25 km/h (15 mph). Complying with the speed limit in Mexico may seem a little ridiculous, since everyone will pass you. For me, it was better than dealing with the police.
Give yourself plenty of time to get there. The Rule of Thumb is you do NOT drive in Mexico at night for any reason.
Where to stay?
Depending on the kind of vacation you are looking for, there are plenty of options.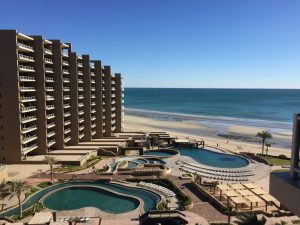 Looking for rest and time with the family? Maybe you'd like to spend a few nights out on the town, but mostly plan on playing on the beach and swimming in a heated pool or Jacuzzi. You will want to look at Sandy Beach for accommodations. Penasco del Sol, Laos Mar Hotel & Suites, Playa Bonita Resort and Las Palomas Beach and Golf Resort are close to town, but far enough away for solitude. The Mayan Palace is located about 30 minutes east of town and is essentially an all-inclusive with a private beach.
Looking for a place on the beach where you can walk to affordable food, bars and discos? Mirador Beach is the place for you. Hotel Baja, Costa Elegante Hotel & Suites, El Mirador Village Hotel, Motel Granada del Mar are on the Beach or right off the beach. Hotel Plaza Penasco and Playa Inn are a little farther away, but look a little nicer on the outside.
There are also a few hotels at the Malecon. Popular for food and bars, the Malecon is hopping at night and it's difficult to find a parking spot, so staying there is a good option. The downside is you there's no beach, though the ocean views are impressive.
Las Conchas and Cholla Bay do not have hotels, nor easy public beach access, but they are great if you can find a condo to rent. Los Conchas makes for great beach fires and you can buy wood on the way out, on Fremont Street, from the men that sell honey ('miel') on the side of the road.
Beaches
Sandy beach is great for walking, playing and finding sea shells. Mirador beach is popular for its rocky tidal pools, and the beach is all sand during high tide. The Mayan Palace has a very long private beach that extends out to a peninsula at the mouth of the estuary.
Food for Thought
You can't beat Lucky's Cantina for breakfast. They advertise free breakfast, but it's only free if you buy a drink, and I don't mean coffee. Your alcoholic beverage is $5 and then your breakfast is free. I couldn't stomach a drink the morning I was there, but they looked big and plentiful, and the breakfast is as well. You won't leave hungry—and possibly sober either.
For Lunch or a less expensive dinner try Tacos Combo (fish tacos), Blue Marlin (fish tacos), Tacos Chenta (meat tacos with Mexico City flare), Yoly's (local Mexican food) and Frenchies (Greek).
For dinner I found the following seafood restaurants to excel: Blue Marlin, Friendly Dolphin, Al Capone's, The Lighthouse and El Capitan. The Lighthouse and El Capitan, located above the Malecon, have the best views in town. If you go to El Capitan get the ½ price coupon from the Rocky Point Times, otherwise it is overpriced. We also put it on our Facebook page. There are a few really good Italian restaurants, Mare Blu and Al Capone's.
Party On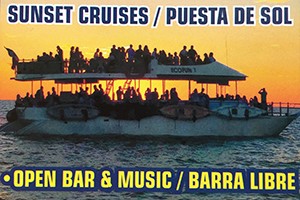 Mirador Beach has a lot of bars and discos. The Malecon has many restaurants and bars that overlook the sea—and is hopping, especially on the weekends, Spring Break and Easter. Between Sandy Beach and Cholla Bay are Changos, Banditos and Wrecked at the Reef. The Sonoran Spa Pool Party is supposed to be a wild Spring Break bash; look them up when you get there. I couldn't find anything on the Internet.
Spring Break would't be spring break without a Booze Cruise. Watch the sunset in a big boat on the Sea of Cortez, open bar & music included.
Shopping
There's lots of shopping at the Malecon. I love to wonder the glass and tile shop at the top of the hill. We bought a freeze dried frog playing a guitar, some drinking glasses and decorative light switch covers. Rodeo Drive, however, on the way to Cholla Bay is the latest and best shopping in Puerto Peñasco. There are great deals on pottery, glass, jewelry, trinkets and just about everything you can think of.
More to Do?
If you desire more than a bunch of cold ones and chillin' at the beach, there are plenty of other activities to enjoy.
Spring Break is prime whale watching season. Humpback and Grey whales come to the food rich waters of the Sea of Cortez to bear their young from January through March. This year they have moved into the area a little later, making this a great spring break adventure.
The Puerto Peñasco estuary houses three different Oyster Farms. Visit these and eat Oysters fresh out of the water for five to six dollars a dozen. The Sea of Cortez in Rocky Point is very salty, so taste your Oysters before you add salt.
Other options include ATV Rentals ($20/h), hiking up the sand dune mountain outside of Cholla Bay (great views), the Bird Island boat excursion and the CEDO Intercultural Studies tour (don't miss the giant whale skeleton).
You could stay home for Spring Break. I'm sure the weather in Phoenix or Tucson will be fine. But Rocky Point is safe, close, and affordable, so why miss out on all the fun, sand, adventure and incredible sunsets?