Saltillo's Museo de la Catrina
Last Updated: March 30, 2022 by Al Barrus
Categories: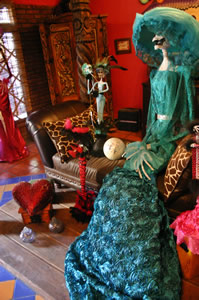 September is Mexico's month of patriotism. I still haven't quite gotten a hold on what all the flag waving is about. Before the independences and revolutions happened, there was Mexico's celebration of the dead. Which reminds me that we are getting ever closer one of my favorite Mexican holidays...
Though it is a bit early to be celebrating this year's Halloween season, including Mexico's own Día De Los Muertos which kicks off November 1st, there is one corner downtown here in Saltillo that celebrates Mexico's macabre fixations year round. Open six days a week throughout the year in Saltillo's historical district is Museo de la Catrina. From the outside, looking in, my first sight of the tall, lanky, and paper-machete-clothed skeletons reminded me of the American film The Nightmare Before Christmas by Tim Burton. However this is no Hollywood knock-off. These skeletal art styles date back to pre-Hispanic Mexico. That is apparent to anyone who has observed the festivity during Dia De Los Muertos which was is dates back to in aboriginal customs.
This museum opened in the spring of 2011, a commission by Saltillo's direction of the occult. It is very uniquely Mexican, with bright colors adorning the walls and displays. A kitchen here serves guests pan de muerto; a sweet bread usually only enjoyed during the days leading up to the annual holidays of the dead.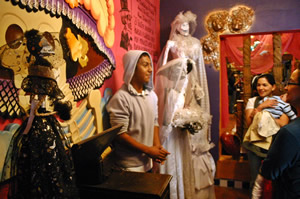 This museum, it seems, was commissioned so as to better preserve the old Mexican tradition of paying homage to the dead. All these skeletal figures have a sort of maniacal smile. Inviting the living to enjoy life before death takes them. During the pre-Hispanic times in these parts of Mesoamerica, the dead were honored much more so than today; they and were allotted more land than the usual grave sites of today. True observers of this pagan-like tradition will construct shrines that pay homage to dead celebrities and family members, though this is less common today.
Most of the celebrity displays are unfamiliar to those who come from outside Mexico and especially Latin America. Many of the skeletal effigies are wearing clothes from the early 1900s from which La Catrina originates. She was originally the name of a 1910 zinc etching of a skeletal head wearing a stylish hat. The original work was made by Mexican printmaker José Guadalupe Posada.
Over the last 100 years Catrina, who's namesake is this museum, has come to represent the spirit of Día De Los Muertos, the Mexican holidays which coincides with the catholic All Souls and All Saints Day, which come after the mainstream American Halloween, which is also celebrated by Mexico's secular mainstream.
The primary display of the tour includes the mummified remains of a woman wearing clothing from 100 years ago; perhaps Catrina herself? There's also a shrine to the late great Beatle John Lennon with a hat that he might have worn (you never know) alongside one of his solo albums with the lyrics and song titles translated into Spanish.
While the museum does have more than a couple cheesy frills, it's a flavor filled treat of a Mexican culture that is slowly fading into history. And for around two dollars U.S. per adult, it's a well spent 40 minutes.