How to Celebrate the Day of the Dead
Mexpro's Itzel Greenheck, originally from Central Mexico, explains the traditions around the Day of the Dead, and describes how she celebrates in the US.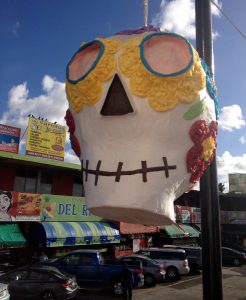 Before Day of the Dead became a trendy celebration among Latino and non-Latino communities in the US, I was already a huge fan. As a matter of fact, when I came to live in this country in 2001, I embraced the Day of the Dead celebrations as a castaway embraces a floaty. But not because I wanted to keep these traditions alive, that was secondary motive that came after I had my first child, but because of the colors.
My first years in the US were great and exciting. However, I had this deep muted feeling, which I don't know how to explain, other than I felt "color deprived."
Halloween, although thrilling, with gatherings and sweet treats, was grey and dark toned. Reflecting on it, it was a bitter-sweet holiday, with symbolic costumes designed to ward off physiological and nostalgic ghosts.
Just after October 31st passes, the Day of the Dead colors and tradition emerge, and it quickly became my way to come to terms with my new life, as a celebration of the present. "The present, in which past and future are reconciled," as described by Octavio Paz.
As years pass, my love for the Day of the Dead becomes stronger and nowadays even my husband and two children know that November 1 and 2 are Mommy's sacred holiday. And they obediently help me gather all the elements I need to make this celebration complete.
This year began much earlier. It took nearly a month to make my "Catrina," although, if I really think about it, it took me longer. I had to take a 12-week paper Mache class last year just to learn how to make her.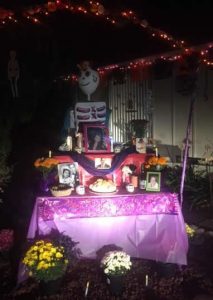 Like every year, the altar was dedicated to my deceased first cousin Adriana Ortiz, and sadly other relatives have been incorporated into the "ofrenda" (offering). I have to admit this incorporation has not been easy. Adding my grandma took two years, another reason I have embraced Day of the Dead so vehemently.
The Day of the Dead is a ritual that embraces death by celebrating life. The Aztecs believed one should not grieve the loss of their loved ones, but instead, welcome the return of their spirits.
I do not think I ever will stop grieving the loss of my beautiful cousin, whose life was cut short, but I am happy to have this opportunity to celebrate her and her life, and to do the same with my grandma.
As Day of the Dead has become more popular, I can easily get sugar skulls, papel picado and other traditional items, previously only found in certain areas of Mexico.
Last week, I found out an Artisan Bread Bakery in San Diego, which now creates "pan de muerto," a traditional Mexican bread, only sold during these festivities. To my surprise, the bakery successfully replicates the flavor and consistency of the ones made in Central Mexico.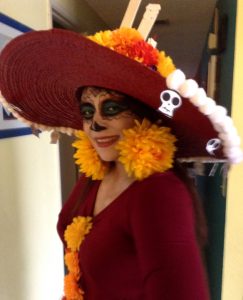 Still, even though San Diego and other US cities like LA and Chicago have great festivals, I always feel the need to cross the border during this time to get the Day of the Dead experience in my original language. This has been a great way to heal my color depravation-- with the flavors of pan de muerto and hot chocolate, the smell of marigolds and incienso (incense), colorful sugar skulls and papel picado from the Tijuana market.
I still miss my grandma and my cousin, but their lives filled mine with all kinds of colors, and today I will put those colors on my Día de los Muertos altar and celebrate them. In this way I keep my childhood and family memories alive in a festive and explosive celebration for two days, November 1-2.
My old self was death but I survived and the skeleton was the symbol of my search for identity.