Rules of the Road: How to Be a Safe Driver When Visiting Mexico
Before you drive in Mexico, learn how to stay safe and avoid accidents. Find out what unfamiliar signs mean and how to best navigate the roads.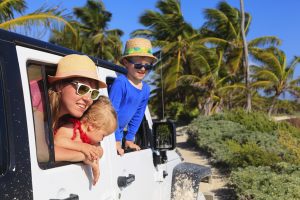 Driving in Mexico is a comfortable way to explore the country; it's faster than bus travel and saves money on taxis. It also allows you to visit the places you want to see at your leisure.
Before you hit the road, however, keep in mind that driving on Mexican roads and highways can be much different than driving in the U.S. or Canada. With the right preparation, you can stay safe, avoid accidents and enjoy your vacation, free of incident.
Drive During the Day
The best way to stay safe on Mexican roads is to drive during the daytime. According to the U.S. State Department, most altercations happen after dark. This holds particularly true when driving in rural areas between cities. If you must drive at night, stick to busy streets.
Choose Roadways Carefully
The U.S. State Department recommends that when possible, drivers should take toll roads for safety. As a bonus, toll roads are patrolled by the Green Angels, Mexico's roadside assistance program. Look for "cuotas," toll in Spanish.
It's also a good idea to stick to well-traveled roads and avoid problematic sections like the stretch of Interstate 101 that runs through Tamaulipas.
Understand Turn Signals
In many countries, a turn signal indicates that the driver plans to turn. In Mexico, a blinking signal can have a variety of meanings, so take a moment to assess the situation before assuming a turn is being made.
If another driver activates the right signal, it typically means that he intends to turn right. This is the case in Mexico, as well.
The left signal, on the other hand, can signify a few different things. If there's an upcoming light or intersection, the driver might be turning left.
In heavy traffic, he may be intending to move right for a moment only to move back to the left.
When there are no turning opportunities in sight, the driver in front of you may be indicating it is safe for you to pass. If you're confused, the safest option is to stay alert and avoid passing.
Watch for Speed Bumps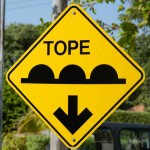 Mexican roads use speed bumps, called "topes," to slow down drivers. Topes can take many forms from a single giant bump to an arrangement of multiple small metal half-circles, and are generally much larger than what we have in the U.S. Some are marked, but many are not.
Avoid damage to your car by scanning the road ahead and slowing down before hitting a tope. Low-slung cars in particular are susceptible to bottoming out on large topes.
Be especially vigilant on city streets, in tourist areas, and in residential neighborhoods.
Be Aware of Mexican Laws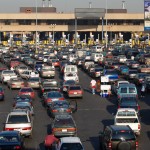 Mexican road rules can come as a surprise to foreign drivers, so know before you go.
Keep in mind that if you're in an accident, you must be able to prove you can handle the financial damages. Auto liability insurance from a Mexican provider is required for drivers, so be sure to purchase a policy with a Mexican domiciled insurer before driving across the border.
If you plan to drive your vehicle beyond the Mexico free zone, be sure to secure a Temporary importation permit in advance. And don't forget your driver's license.
Following these tips can help you avoid unwanted situations and stay safe while driving in Mexico.
Get more information on Road Signs and Speed Limits on our website.