Puerto Peñasco RV Parks

Where Can I Park My RV in Rocky Point?
If you're planning on driving to Mexico to enjoy the beach, you're not alone. Tourism in Mexico recently set a record, with over 10 million people visiting in the first quarter of 2018. About half—5.1 million—of those visitors drove across the border to visit, and tourism experts have predicted an increase in visitors in the coming years.
If you happen to be driving to Puerto Peñasco, Mexico (also called 'Rocky Point' by the gringos) via RV, you'll likely want to stay at one of the beaches along the sparkling Sea of Cortez. You're going to need a clean, secure spot, preferably with amazing ocean views. Fortunately, there are several RV parks to choose from. Here are four of the most popular ones and what you need to know about them.
La Playa Bonita RV Park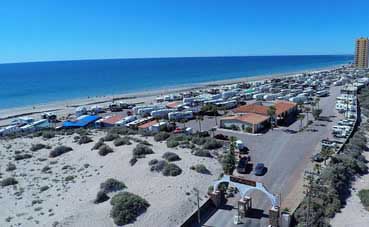 If you're in search of Puerto Peñasco RV parks right on the beach, check out La Playa Bonita. This spot is perfect for families, couples, and singles alike, as it's peaceful, clean, and in a great location—steps from Playa Hermosa Beach on the Sea of Cortez. Plus, pets are allowed here!
La Playa Bonita RV Park features more than 200 spaces with full hookups for water, electric, and sewer. There's also a TV room with cable and satellite TV, as well as laundry facilities, clean restrooms with showers and hot water, and a convenience store. And since it's located right next to the popular La Playa Bonita Resort, you'll have access to a restaurant on the beach, called Puesta del Sol. From there, you can walk to local shops and other eateries.
When you come to La Playa Bonita, you can choose between an ocean view or a spot right on the beach. Ocean view spots cost $24 per night, with a 2-night minimum stay, while beachfront spots are $29 per night with a 5-night minimum stay. That price includes two guests per space, so expect to pay $2 more per night per extra person in your RV.
This is among the most popular RV parks in Puerto Peñasco, so reservations are recommended, but you may be able to get a spot as a walk-in some days.
Get there by taking Highway 8--which is called Blvd. Benito Juárez within Rocky Point--south to Calle No Reelección, where you'll turn right. At the end of that street, take a left onto Blvd. Dr. Ernesto Guevara del Campo, followed by a left onto Av. Vallarta and a right onto Paseo Balboa. Once you're at the roundabout, exit onto Paseo Balboa E, and you'll see La Playa Bonita RV Park on your left!
Playa de Oro RV Park
Another RV Park located right on the beach is Playa de Oro.
This spot is situated on El Mirador Beach, with miles of pristine coastline to the east and tons of restaurants, bars, and coffee shops to the west. In fact, it's in walking distance of well-known spots like Pink Cadillac Restaurant, Manny's Beach Club, and Elixir Bar Lounge. So while Playa de Oro itself is considered family friendly, there's a party atmosphere just steps away, making this spot popular with young couples and singles alike.
Playa de Oro has 300 spaces for RVs, with 20- and 30-amp electric sockets, pure well water, and sewage hookups. There are also clean bathrooms with showers, free wireless internet, laundry facilities, security, palapa bar, and a boat ramp nearby. If you want a beachfront spot, the cost is $27 per night, or $22 for a regular spot.
To get to Playa de Oro RV Park, take Blvd. Benito Juárez south until you reach Calle 24 Lazaro Cardenas del Río. Then turn left and continue straight onto Av Sinaloa. Continue south until you get to Calle Mariano Matamoros, and you'll see Playa de Oro on your left.
The Reef RV Park
One of the most popular RV parks in Rocky Poin is The Reef. It specializes in providing large sites for rigs that are bigger than 35 feet and need at least 50 amps for the electrical hookups, rather than the average 30-amp hookups. In fact, the average spot here is 43-feet long by 26-feet wide. When you park your rig here, you'll get lots of free amenities, such as wireless internet, clean bathrooms with showers, 24-hour security, and hookups for water, sewer, and electric.
When you stay at The Reef RV Park in Rocky Point, Mexico, you'll also have easy access to delicious food, with the Mare Blu Italian restaurant and Wrecked at the Reef bar & grill right there. Plus, there's a mini market onsite. If you like the idea of getting all these amenities as you RV camp on Sandy Beach, note that it's $35 per night for a beachfront spot and $20 per night for an ocean view spot.
To get there from Blvd. Benito Juárez, go south until you see SON 3, where you'll take a right. Take a left on Blvd. Costa Diamante and follow it until it becomes Blvd. Paseo de la Duna. Stay on that street until it ends, at which point you'll see The Reef RV Park on the left.
Concha del Mar
Another of the most well-liked RV parks in Puerto Peñasco, Mexico is Concha del Mar. This park is the only beachfront dry camping area in Rocky Point, and the prices are very reasonable at $15 per night. For this price, you get access to a beachfront space, showers, laundry facilities, wireless internet, 24-hour security, waste dump, and more.
One possible drawback of Concha del Mar is that it doesn't take reservations except for during Easter week. So there's no guarantee you'll get a spot here on a busy weekend. If you want to drive down and check it out, take Blvd. Benito Juárez south to Calle No Reelección and turn right. Turn left onto Blvd. Dr. Ernesto Guevara del Campo, and make another left onto Av. Vallarta. Turn right on Calle 3a and right again onto Calle Aquiles Serdán, and you'll see Concha del Mar!
Now that you know which Rocky Point, Mexico RV parks might appeal to you the most, it's time to start planning your trip. And that means getting RV insurance before you venture south of the border. Get your quote today so you can get one step closer to starting your next adventure in Rocky Point!