How to Clear U.S. Customs When Exiting Mexico
If you're driving back from Mexico and entering the US, you will have to clear U.S. Customs. Depending on what you're carrying, and whether or not customs agents check your vehicle, this process can take anywhere from a few minutes to a few hours. Knowing the requirements beforehand can make your experience much smoother. Follow the guidelines below to clear U.S. Customs and Border Protection (CBP) without hassle.
Vehicle Import Permits and the Free Zone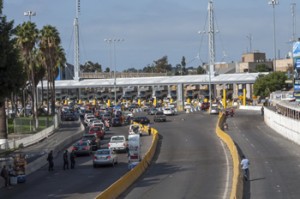 Every vehicle driven into Mexico from the U.S. or Canada must carry a temporary Vehicle Import Permit (VIP). This permit can either be purchased online or at a Banjercito kiosk at any border crossing. You'll need a vehicle registration to buy the permit.
Before exiting Mexico remember to cancel your permit, otherwise you won't be able to drive back into the country later. Fortunately, this can be done at any Banjercito kiosk (and not necessarily the one at the border you entered).
There is an exception to the above rule, however: if you are traveling only through the Mexico free zone, you are exempted from the import permit requirements. The free zone generally includes areas 15-20 miles inside the Mexican border, the State of Baja and a large portion of Sonora. There are no import restrictions within this area, so you can travel and shop freely without any worries.
Once you've canceled your VIP, you can then proceed to U.S. Customs. Once there, follow the steps below.
Step 1: Understand your limits
U.S. Customs imposes a few limits on every person entering the United States from Mexico. The important limits you need to know are:
Cash and monetary instruments (travelers' checks, cashier checks, etc.) in excess of $10,000 must be declared.
All prescription drugs must be FDA approved and include the original prescription.
Items on the Prohibited and Restricted Items list cannot be imported to the U.S. This includes Cuban cigars, firearms, and a number of food and dairy products.
Vehicles driven from the U.S. must have adequate proof of U.S. origin, such as a U.S. vehicle registration card.
Additionally, if you're carrying high value items purchased in the U.S. (like phones and laptops), you should carry proof of purchase. This can be a receipt or a bill of sale. You can also register the item with Customs before leaving the U.S. Although this shouldn't be a problem in most cases, failure to produce ample proof of purchase might force you to pay an import duty.
Step 2: Understand your import duty exemptions
Every citizen or resident entering the U.S. through Mexico is allowed certain import duty exemptions by U.S. Customs. The important exemption rules are:
The first $800 worth of goods is duty-free, provided they are meant for personal use. This limit is on a per-person basis.
For the next $1,000 worth of goods, you have to pay a flat duty of 3% of the item's value.
For goods worth over $1,800, an import duty is levied as per the harmonized tariff schedule. This can range from 0 to 25%, depending on the item.
Step 3: Make sure that you have the right documents
Before you enter U.S. Customs, make sure you are carrying at least one of the following:
Passport
Enhanced driver's license
SENTRI pass
Additionally, you should also have the following documents handy:
Prescriptions
Proof of purchase for items purchased in Mexico
Vehicle registration card
Photocopies of important documents such as SSN, birth certificate, credit cards, etc.
Step 4: Enter Customs
The ease at which you leave Mexico depends a lot on the port of exit, the number of vehicles ahead of you, and even the time of day. You can find details of all U.S. and Mexico border crossings online. You can also find estimated wait times for each crossing.
U.S. Customs and Border Patrol provides a list of items that must be declared. If you do not make declarations at Customs and a CBP officer inspects your vehicle and finds undeclared items, you can be charged a fine on top of the import duty.
If you keep all documents handy (Step 3 above) and declare all items above the prescribed limit, your time at Customs should go more quickly. Once you've cleared the CBP, you will be allowed to enter the U.S.
Conclusion
Exiting Mexico after your trip can be a hassle, especially with the U.S. Customs' strict import requirements. However, if you follow the directions above and understand your limits, you should have a smooth experience exiting the country.