My First Trip to Puerto Peñasco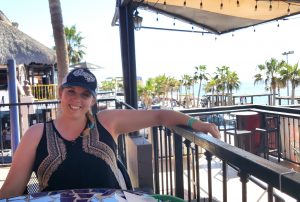 Seasoned Mexico traveler, Jules Gilmore, talks about her first trip to Puerto Peñasco (Rocky Point).
Over the Columbus holiday weekend, I took my first trip to Puerto Peñasco (AKA: Rocky Point). It was a much different Mexico experience than I anticipated, or experienced in my past.
While I was growing up, my family would travel down to Mexico three or four times a year to camp on the beach in San Felipe, Baja, Mexico. Since we lived in Southern California, only 20 minutes from the Tecate/California border crossing, our trips were short and easy. However, the lines at the border could be long—I believe our record was 6 or 7 hours.
Even though San Felipe is only 20 minutes from Tecate, the road is not well marked between there and San Felipe. This is largely due to the fact that most tourists go to Rosarito on the Pacific side of the peninsula from Tecate.
While camping, we took a few, shorter trips into town—only to stock up on beer and ice. When we did so, we had to get a cab because there wasn't any parking in town. Therefore, we spent little time doing touristy things or eating there.
Puerto Peñasco was very different and my experience was quite a surprise. For one, the road from Gila Bend to the Puerto Peñasco is mostly a straight shot. There's a few turns in Sonoyta, but they were well marked, sending us directly to Rocky Point.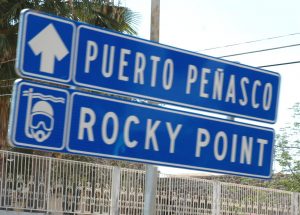 There was absolutely no wait to enter Mexico at the Lukeville/Sonoyta border crossing. On the way back into the states we only waited 45 minutes (on a holiday!).
In addition, there were more people than I was used to seeing on a vacation in Mexico. The town and areas surrounding Puerto Peñasco catered to that. For instance, the town was friendly and easy to navigate. We found that if you follow the cars in front of you, you will make it to your destination—and this was a reoccurring theme during the trip.
Unlike the areas around San Felipe, you didn't have to carry cash. This was probably the most shocking part of my trip. No cash! No problem. Many of the vendors and restaurants in Puerto Peñasco take credit cards. This was the first trip to Mexico that I didn't have to use cash, pay to use a bathroom in town, or take a cab into town—because there was plenty of parking for tourists.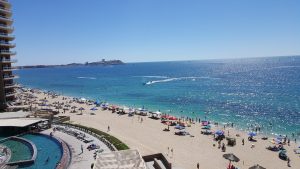 I found Sandy Beach in Rocky Point to be similar to the beaches we camped on in San Felipe, as they are on opposite sides of the northern end of the Gulf of California/Sea of Cortez. The tide goes in and out frequently, as far as a mile out in the mornings. This creates multiple, shallow water ways between sand bars and allows for great runs along the beach. The water is quite warm, even through the Fall months.
To return to Arizona we simply followed the cars in front of us with Arizona plates, instead of looking at our directions. We didn't have any issues with our insurance or vehicles and crossed the border easily. As always on my Mexico trips, we brought back fond memories, tequila, and lots of tortillas.