Best Places to Winter in Mexico
Living at an altitude of 7500 feet in Flagstaff, Arizona, I am already feeling hints of winter—a later sunrise, cooler air and a slight discoloring of leaves. I'm already dreaming of Mexico.
As soon as the weather gets uncomfortable, I'll be wanting to spend the winter or travel for an extended visit there. In the hopes of finding the most ideal spot for this year's venturing I've done some research. Let's look at what's out there...
For each location the I've include the population, average high temperature, and cost of living estimate (relative to the other locations) are given. As well, I've included bulleted top selling points for each.
Ajijic, Jalisco (near Chapala)
Ajijic is part of the municipality of Chapala (also known as Lake Chapala), which sits on the north end of Mexico's largest fresh body of water, Lake Chapala.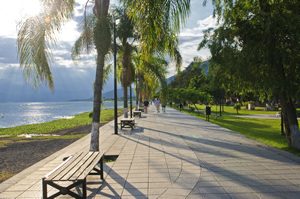 Surrounded by the Sierra Madre mountains, Ajijic has a mild climate with comfortable year-round temperatures and low humidity.
Even during the rainy season, June – October, storms generally take place in the evening.
Art walks are hosted on the weekends by the many local galleries. Also popular are the city markets. Plan to listen to Mariachi music, which originated here in Jalisco.
Other Selling Points:
• Moderate temperatures & humidity year round
• About 15% U.S. / Canadian residents or long-term visitors
• Art Galleries & Shopping
• 3 Miles from larger city of Chapala with more amenities
Population: approximately 15,000
Altitude: 5000'
Average High (degF): Mid 70s to low 80s year round
Cost of Living: $$$$ more expensive than other locations, except San Miguel de Allende
Ensenada, Baja California Norte
Also known as La Cenicienta del Pacífico (The Cinderella of the Pacific), Ensenada is the third largest city in Baja Mexico. Located on the Bahía de Todos Santos (Bay of All Saints), the city hosts cruise ships, an aerospace center, and the largest wine producing area of Mexico.
Ensenada became particularly popular in the 20th century when prohibition hit the U.S. In the 1930s politicians, artists and movie stars took the short drive from Los Angeles or San Diego to Ensenada to get their party on.
Since then the city has continued to grow. Its close proximity to the U.S., moderate temperatures and low cost of living make it a very popular expat destination.
There's no shortage of things to see and do in Ensenada. The Civic Plaza includes the Malecon. You can find a giant Mexican flag, as well as a collection of sculptures of Mexican heroes. Many marinas fill the bay and offer different experiences.
The Riviera del Pacífico Cultural and Convention Center was established as a casino in the 1930s, presumably by the notorious Al Capone. It was a popular destination for American actors.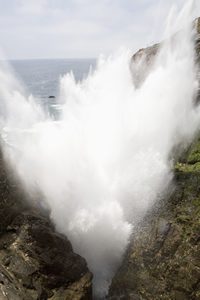 La Bufadora is one of the largest blowholes in North America. It is located on the Peninsula de Punta Banda, which makes up the southwest edge of the Bahia de Todos Santos.
Tiangui Los Globos, an outdoor food and flea market, is located on the east side of Ensenada, away from the touristy downtown area. Find all sorts of local food and wares.
Two nearby national parks Sierra de Juarez and San Pedro Martir have renowned observatories.
World famous surfing can be found at Todos Santos, an island 12 miles from Ensenada. Accessible only by boat, the island boasts some of the biggest North American waves.
Valle de Guadalupe, 14 miles from Ensenada, is one of the largest wine producers in Mexico. Each year large festivals take place during the grape harvest. Still a quaint community, it is fast becoming a famous for its food, olive oil and limited release wines.
Other Selling Points:
• 70 miles from the U.S. border with Mexico (Tijuana)
• Close to Mexico's Wine Capital (Valle de Guadalupe)
• Large expat community
• Lots to do
• Great food
• Low cost of living
Population: 520,000
Altitude: Sea Level
Average High (degF): 70's Oct – June
Average Precipitation: 1-2 inches Nov – Apr
Cost of Living: $ least expensive
Oaxaca, in the State of Oaxaca
The colonial town of Oaxaca, the capital of the state of Oaxaca, offers a mild climate, amazing food, cathedrals, archeological sites, indigenous crafts, galleries, museums, architecture and grand fiestas. And, it is a World Heritage Site.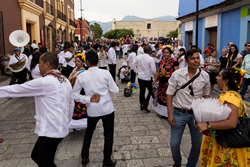 Founded in 1529, the city's Zocalo (city center) hosts a large chapel and restored 16th century buildings, as well as government offices.
Known as "Mexico's Culinary Capital", you will find tremendous food whether you bought on the street or in a restaurant. Particularly well known for its mole, Oaxaca is called "The land of the 7 moles."
Other popular dishes include quesillo (a semi hard string cheese, similar to Monterey jack), tlayudas (large tortillas), chapulines (fried grasshoppers) and mescal (a drink made from the agave plant).
One of the more popular things to do in Oaxaca is to take a cooking class. Local culinary skills and recipes are taught in locations throughout the city.
Fresh fruits and vegetables can be purchased from the 'Tianguis,'' a traveling street market that delivers to your neighborhood.
The Zapotec archeological site, Monte Albán, is less than an hour's drive from the city and also a World Heritage Site.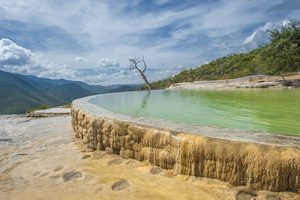 The top ecotourism destination close to Oaxaca city is Hierve el Agua ("the water boils"), a natural mineral springs. Located high up in the mountains, take in expansive views of the valleys below while taking a soak. There are also many hiking paths that lead to the various intricate formations created by the springs.
The state of Oaxaca is known for its 16 indigenous tribes and many indigenous villages surround Oaxaca city. Tapestries, ceramics, wood carvings and tin art can be purchased, or you can just watch the craftsmen working or performing traditional dances.
The biggest and most vibrant celebrations in Oaxaca include Guelaguetza (an Aztec celebration), Dia de los Muertos and Noche de Rábanos (night of the Radishes, a Christmas celebration).
Other Selling Points:
• U.S. News & World Report's #1 Best Places to Visit in Mexico
• One of the safest tourist destinations in Mexico
• Mild Climate
• International Airport
• Excellent Food, Mole
• Very Welcoming to Expats & Travelers
• Greatest Geographic Diversity (Mountains & Beach nearby)
• Good Medical and Dental Care
Population: approximately 4 million
Altitude: 5000'
Average High (degF): Low 80s Aug – Jan, mid 80s-low 90s Feb – July
Cost of Living: $$$ mid-priced
San Miguel de Allende, in the State of Guanajuato
Called the prettiest town in Mexico on the Mexico tourism website, San Miguel de Allende is known for its culture—art, music and food.
Established in 1551, it's cobblestone streets lead to preserved 17th and 18th Baroque and Neo-gothic buildings. In the city's historic center, a World Heritage site, is the most impressive architecture.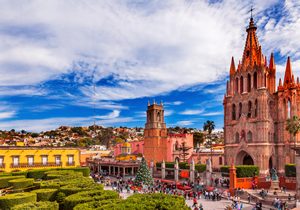 The town was discovered by foreign artists in the late 1930s and 40s who established art and cultural institutes. Notable is American, Stirling Dickinson's Intituto Allende art school. This focus on art and culture has drawn expatriates, artists, writers and tourists to the town ever since.
U.S. tourists and expats make up nearly half the population. Therefore, English is commonly spoken.
Outside of the city center, one can find museums, ornate old churches, a public library, parks, markets and amazing shopping—where one can purchase from local artisans.
Close to San Miguel is tiny community of Atotonilco and the Sanctuary of Atotonilco church complex. Also a world heritage site, it's Baroque murals have been called the 'Sistine Chapel of Mexico'.
Nearby Silver mining in San Luis Potosí and Zacatecas are other attractions.
Some suggest the serape was invented in San Miguel de Allende.
Other Selling Points:
• "Prettiest town in Mexico"
• 170 miles from Mexico City
• Approximately 50% expats/tourists
• English speaking
• Well-known for Art & Culture
Population: approximately 150,000
Altitude: 6300'
Average High (degF): High to mid-70s Sept - Mar
Average Precipitation: < 0.5 inch Nov-Mar
Cost of Living: $$$$$ most expensive
Tlaxcala City, in the State of Tlaxcala (smallest state in Mexico)
The Colonial City of Tlaxcala was built by Spanish beginning in the 1520's. The large city center, Plaza de la Constitución, features the Santa Cruz fountain and a large commercial area, and is well-known for its restaurants and bars.
The historical buildings in Centro Historico de Tlaxcala and murals of the Government Palace are popular places to visit. Basílica de Nuestra Señora de Ocotlán, established as a Franciscan monastery in the mid 1500's, is a popular tourist destination. And, there are many museums in the city.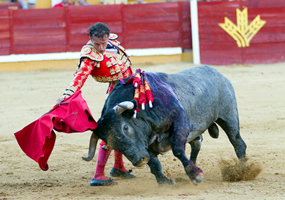 Bull fighting is popular in this Mexican state. The largest and most popular bull ring is in Tlaxcala City, 18th century Jorge "El Ranchero" Aguilar plaza.
Several Archaeological sites and ancient ruins can be found nearby, as well.
Other Selling Points:
• Makes Kiplingers top 8 places to Retire
• Non-stop flights from the U.S.
• Multiple Medical facilities & Hospitals
• Slower pace than other places in Mexico
• No drug violence
Population: approximately 90,000
Altitude: 7300'
Average High (degF): mid-70s year round
Average Precipitation: < 0.5 inch Nov- Mar
Cost of Living: N/A
Zihuatanejo, in the State of Guerrero
Located 150 miles north of Acapulco, Zihuatanejo sits on a protected bay on Mexico's the Pacific coast.
Until the 1970's Zihuatanejo was a small fishing village, popular with backpackers. Developers then took over making 'Zihua' and her sister city, nearby Ixtapa, tourist destinations. But unlike Ixtapa, Zihuatanejo maintains its traditional Mexican small-town feel, making it attractive to those who wish to avoid the beach party town scene.
"El Centro" (downtown) is located on the north end of the bay, with narrow, stone streets. It's colorful buildings include galleries, folk art boutiques and quaint hotels .
The Malecon, or "Paseo del Pescador" (Fisherman's Path), is a path along the city beach, lined with mostly with seafood restaurants.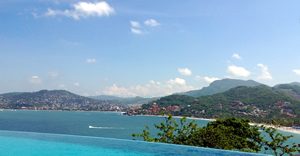 There are numerous incredibly scenic beaches in "Zihua". Look for fresh fish tacos and ceviche while you are there.
At the plaza, Casa del la Cultura, concerts, art shows and other events take place. The Ingrana family hacienda, now Restaurant Coconuts, is a 150-year restored coconut plantation that features local artists and high end food.
Local crafts and silver from Taxco can be found at one of the 250 shops at the Mercado de Artensanías market.
Outdoor enthusiasts won't be bored...find snorkeling and diving sites near town, easily accessed by water taxi. Swimming, sport fishing, surfing, horseback riding, bird watching in local lagoons, and even golf, are other available activities.
Depending on when you visit you may have the opportunity to experience sea turtle nesting. The beaches of Zihuatanejo have hosted Leatherback, Hawksbill and Olive Ridley species.
Other Selling Points:
• U.S. News & World Report #4 Best Places to Visit in Mexico
• International Airport
• Seafood
• Lots of Outdoor Activities
• On the Beach
Population: approximately 110,000
Altitude: Sea Level (but can be as high as 3000' nearby)
Average High (degF): Low 90s year round
Cost of Living: $ least expensive, next to Ensenada
So there you have it. Whether you are looking to winter inland with culture and food, or on the beach with water sports and seafood, there is something for you in Mexico. I don't know about you, but I'm ready to load up my rig and head down.
If you need more information on the cost of living, you can get it on www.numbeo.com