The Top 10 Best Spots for Diving in Baja
Maybe you're an expert scuba diver. Or, maybe you've only seen live fish at a pet store. Either way, Baja California is ideal for journeying under the sea. The tropical marine animals are incredibly vivid. And the scenery of the deep -- the caves and coves, the cliffs and gardens -- will surely take your breath away.
Before You Go
The optimal Mexico diving season is probably between August and November. The weather is warm, and it's not the peak tourist season, which means good deals and fewer crowds. The ocean water is generally clear during this period, too.
Even if you are a beginner or an intermediate diver, it makes sense to own your fins, snorkel and mask. That way, you can be sure these items are sanitary and fit you well. For the same reasons, it's helpful to buy your own wetsuit and gloves.
You can rent other diving gear, including the scuba tank, mask defogger, dive lights and even an undersea camera. Even so, if you dive at least once a year, it could be more cost-effective to own all of these pieces.
If you'll be piloting a boat, be aware that Mexico requires boat insurance in its waters. It is the law.
With those formalities out of the way, it's on to the main question: Where can you dive in Baja California?
1. La Bufadora
Near the city of Ensenada, about 2.5 hours south of San Diego, is the famous geyser La Bufadora. Known for one of the largest marine geysers in the world, this spot also hosts some of the best diving in Baja Mexico.
A nearby canyon nourishes abundant creatures, including anemones and starfish. With excellent visibility and water that can exceed 60 degrees Fahrenheit, you might not want to return to land.
There are several dive shops in Ensenada the offer tours and equipment rentals.
2. Isla Todos Santos
A pair of islands off the coast of Ensenada, Isla Todos Santos, are well known for some of the best surf breaks in Baja. What is less well known is that they offer great diving adventures. The islands are only accessible by boat. If you're in the area between October and March, you will likely get to see migrating herds of grey or humpback whales.
3. Rosarito
Only 20 miles from the US border, the resort city of Rosarito supplies more of the best diving in Baja. Two major attractions are off the coast. The Giant Kelp Forest is a wonderland of waving plants and hungry fish. And, Rosarito Underwater Park is the final resting place of the Mexican Navy's Uribe 121.
For scuba tours and gear, hit up Rosarito Ocean Sports.
4. San Felipe
On Baja California's west coast — about 178 miles and 3.25 hours south of Yuma, Ariz., and about 243 miles and four hours from San Diego — is San Felipe. Its coral reefs are stunning. And history buffs ought to visit its assorted shipwrecks.
When scuba diving in San Felipe, stay away from the beaches lest sand obstruct your field of vision. You can hire a fishing guide to find a good dive spot.
Also, come prepared: As of this writing, we have no knowledge of any dive shops in town.
5. Cabo Pulmo
Near Baja California's southern tip is Cabo Pulmo. In the 1990s, it banned fishing, and its coral reefs became protected sites. As a result, its marine life has become extremely varied and plentiful.
In Cabo Pulmo, a licensed dive guide will take you on a 45-minute excursion. You can see the wreck of the cargo boat El Vencedor, where you'll encounter many vibrant fish. Whales, eels, turtles and a bull shark could also show up.
Cabo Pulmo Divers, a popular store, is open 24 hours a day. Look for a building with a giant turtle painted on the front.
6. Loreto
From 1697 to 1777, Loreto was the capital of Las Californias, a region that includes modern-day Baja California and part of the western United States. Today, it's one of the world's top scuba diving locales.
This city on the Sea of Cortez is where you'll find Loreto Bay National Marine Park, which sprawls over 500,000 acres and encompasses five uninhabited islands. The explorer Jacques Cousteau once called it "the world's aquarium." You'll see hundreds of fish species, whales, sea turtles and more, and the rare blue footed boobie, unusual flora and fauna and more when you're out of the water.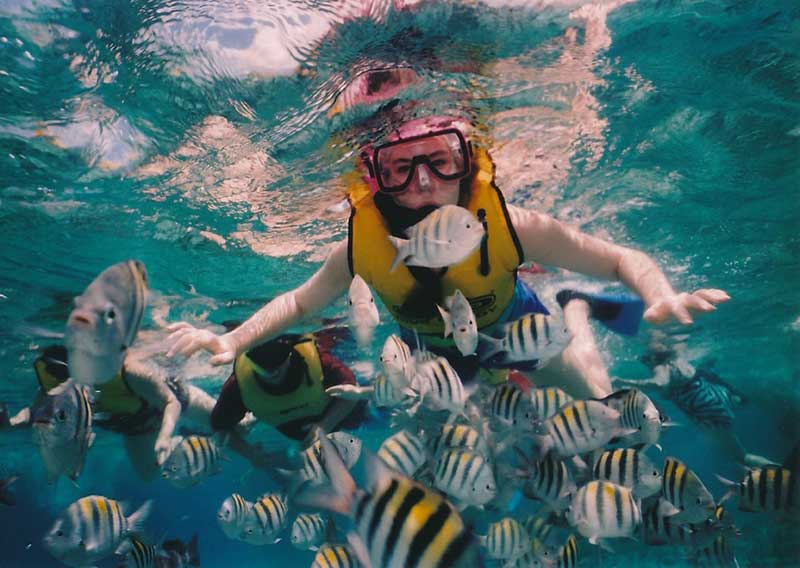 Also noteworthy are Los Candelleros, underwater sea cliffs with a 200-foot drop.
Find comfortable dive temps between 73 and 86 degrees Farenheight from May through November. Head to Dolphin Dive Baja for tours and equipment.
7. Bahia de los Angeles
Bahia de los Angeles is a little fishing town with big diving fun. Off LA Bay, in the Sea of Cortez, you'll get to see fin whales, rays, leatherback turtles, whale sharks and dolphins. When you're not captivated by the fauna, check out the flora -- the brilliant sponges in particular. Above water, you'll see the Boojum tree, which only grows in this area.
Note that Ricardo's Diving Tours can sell you the diving supplies you need.
8. Puerto Peñasco
"Rocky Point," in English, is located 62 miles from the Arizona border, and is a hub of tourism at the northern tip of the Sea of Cortez.
Here, you can hire a fishing or excursion boat at the Malecon to take you to popular dive spots. Or, Bird Island tours happen daily, taking you 25 miles off shore to see all kinds of sea life. An alternative is to walk on almost any beach and keep going once you hit the ocean. However you get in the water, you'll witness a living rainbow of octopuses, stingrays, red coral, sea grass and lots more.
Before your descent, stock up at the Sonoran Sea Resort's Dive Shop.
9. Cabo
It's a long ride to the southern end of Baja California, but Los Cabos makes it worthwhile. It only takes about five minutes to get to a pristine diving spot, with warm waters in Cabo.
Expect to see the bright yellow barberfish, playful sea lions and mobula rays taking flying leaps above the waves. You may even view a hammerheads shoot through the water.
A special treat is the undersea Sand Falls, where sand tumbles down rocks. It really does resemble a waterfall.
Before you dive in Cabo, check out Dive Cabo, a store that also organizes tours.
10. La Paz
Expect fish with psychedelic hues when diving near La Paz. You could also run into a whale shark or manta ray, its fins at full mast. Several dolphin species inhabit this area, too, and shipwrecks loom below.
Get a full scuba package from Dive, a renowned local establishment.
So there you have it: locales for the best scuba diving in Baja, if not the best scuba diving in Mexico. In the mood for some diving adventures, now? Experience Mexico's beauty from a shimmering new perspective. Come on in! The water's great!