The 6 Best Places to Camp While Visiting Baja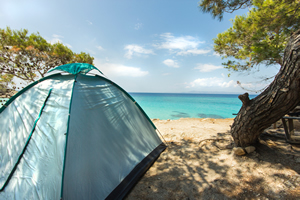 Mexico has a wealth of great camping, and Baja is no exception. There are safe, private campgrounds and even a few free campsites on this vast peninsula.
If you're planning a visit to beautiful Baja California, you may want to skip the hotels and enjoy spending time in the outdoors, in a more natural setting. There are a number of locales that are safe, picturesque and accommodating for both tent and RV camping. Consider the following.
Cabo Glorieta RV Resort
The Cabo Glorieta RV Resort is located near the popular tourist destination Cabo San Lucas. At the southern tip of Baja California, Cabo is considered one of the most popular spots in all of Mexico.
There is a lot of marine wildlife to be seen in this area. You may be able to spot sharks, whales and manta rays.
The Cabo Glorieta RV Resort attracts travelers from all over the world, thanks to its safety and close proximity to the amenities of Cabo San Lucas. The park offers full electric hookups to campers. Also available are laundry facilities and a public swimming pool.
East Cape RV Resort
Located in the coastal town of Los Barriles, which is between La Paz and Cabo San Lucas, Baja's Resort at East Cape Casas, Palapas, RV park is just 300 yards from the Sea of Cortez, a sea with a unique ecosystem and an abundance of marine wildlife. Snorkeling and fishing are at the top of the to-do list.
The park is situated in the middle of town and is suitable for both short-term and long-term stays. The rental price includes utilities and free wireless internet. The property also includes a public swimming pool and health spa.
Clam Beach Resort
Clam Beach is located on the highway between Rosarito and Ensenada. There are electric, water and internet hookups at this all-inclusive campground. Also, a full gym is available to campers.
The park has private security so guests can sleep soundly knowing they are safe, and more fully enjoy their trip.
Pikin Parque de Altura
Pikin Parque de Altura is located on the highway between Tijuana and Ensenada. A great spot for tent camping, the facility has tents and sleeping bags available to rent. Additionally, charcoal grills are available to guests. The park is conveniently located near restaurants, a gorgeous beach, the Valle de Guadalupe wine region, and great surf spots. The company running Pikin even offers zip line tours.
Playa Tecolote
Playa Tecolote is a popular beach located within the La Paz municipality. The beach is known for its white sandy beaches and gentle waves. Nearby are restaurants and bars where you can mingle with the locals and explore international cuisine. From the beach, it's easy to catch a boat to Isla Espíritu Santo, a popular eco-tourism destination.
Although there is no official campground here, it is still a popular destination for RV parking and tent camping. Beach access and camping are entirely free of charge since Playa Tecolote is a public beach.
Experience Baja for Yourself
Whether you immerse yourself in the festive atmosphere of Cabo San Lucas or bask in the quiet of Playa Tecolote, you're sure to have an unforgettable time in Baja. With more than 27,000 square miles to explore, this vast peninsula is a camper's paradise. Bring the RV or pitch a tent, and discover why Baja attracts so many travelers from around the world.