The 4 Best Places Spend Christmas in Northern Baja
A Christmas getaway to Northern Baja, Mexico, is sure to create memories you'll not soon forget. If you wish to stay close to the border during the holidays, keep these great destinations in mind.
Northern Baja, Mexico, borders the U.S. state of California and features beautiful beaches and majestic deserts. This serene and picturesque region is the ideal place to spend the Christmas season.
The celebrations include the Festival of the Virgin of Guadalupe, which is held each year on December 12. Las Posadas begins on December 16th, celebrating the journey of Joseph and Mary to Bethlehem. And, each Sunday, churches light a new candle for Advent, the celebration of the Nativity of Jesus.
If you're planning a trip to Baja this December, consider these locales...
Playas de Rosarito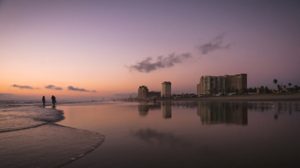 Playas de Rosarito, also known as Rosarito Beach, is a great location for families spending Christmas in Baja. Only 20 miles from the US border with California, on the Pacific Ocean, it offers a quick trip to the beach.
Since the town is well populated with American expats and visitors, it won't be hard to find lots of good food, shopping and activities. Head to the main boulevard, Boulevard Benito Juarez, or Popotla Boulevard for unique Mexican galleries and boutiques. Puerto Nuevo, in the city central, is the culinary destination.
Play in the Pacific Ocean, take a hike or search for shells on pristine beaches that stretch on endlessly. It's hard to go wrong in Rosarito.
Ruta del Vino in Valle de Guadalupe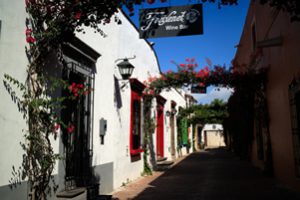 If you are up for an active Christmas getaway, the Ruta del Vino (the 'Wine Route'), and all of Valle de Guadalupe, affords beautiful views of the Baja highlands. It's home to dozens of family-owned and operated vineyards. The vineyards offer special seasonal events, such as wine tasting tours. You can even take a tour of the vineyards on horseback. Many of the tours include a horse-drawn carriage for two so that you can enjoy a romantic getaway. The vineyards are decorated for Christmas and feature live music on weekend nights during the holiday season.
Valle de Guadalupe has become a culinary destination, as well. Many new restaurants, featuring top chefs, have sprung up in recent years, offering more options for sampling Mexico's best wines.
Just an hour south of the US border with Tijuana, with quaint hotels and villas, you'll find an experience unrivaled anywhere else in Mexico.
Mexicali
Mexicali is the second-most populous city in Northern Baja. Christmas celebrations take place throughout Mexicali, which is home to hundreds of churches.
In the Friendship Square neighborhood of La Chinesca (the area with the largest per capita population of Chinese residents in Mexico), you can see a special seasonal display of lights and Chinese lanterns.
Plaza La Cachanilla, a very large shopping mall, is a great place to see many decorated and themed Christmas trees. While you're there, you can also get your photo taken with Santa Claus.
Mexicali is home to a large population of immigrants, so you can try a variety of delicious international foods for Christmas dinner.
Expect warm winter temperatures in the arid desert of Mexicali.
Just 6 miles from the U.S. border, it's easy to get to Mexicali, and you can find a lot of Christmas going on there.
Tijuana
Tijuana is Baja Norte's largest city, it's industrial and financial center, and its center of culture.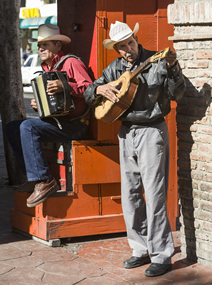 The Mercado de Artesanías is an artisan market that puts on special events for Christmas. You can complete your shopping while listening to cheerful live music played by local musicians.
At the CECUT (Tijuana Cultural Center) you can find a live orchestral performance of Christmas music and other Christmas themed events.
While there look for the classic Christmas dinner, the Tijuana Special. It includes enchiladas, rice, refried beans, and diced red and green peppers for a festive touch.
Tijuana is on the border with the US. So all you have to do is go through Customs and you are there.
If visiting Baja Norte for the Holidays, expect lively festivities, delectable foods and gorgeous surroundings. You'll surely to be consumed with the joy of the holiday season.