Visit Cuatro Ciénegas - 'The Galapagos Of Mexico'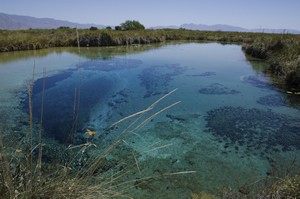 It's not for nothing that Cuatro Ciénegas ("Four Marshes") - a tiny but beautiful municipality in the north of Mexico - was awarded the category of "Pueblo Mágico" by the country's tourism department. It's home to a huge range of unique flora and fauna, and the environmental conditions there are so unique that NASA has speculated about using it to study the early development of life on Earth. It's safe to say that there's nowhere else quite like Cuatro Ciénegas and that no visit to Mexico would be complete without it.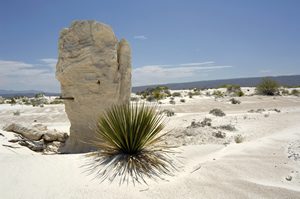 The clear blue waters and abundant animal and plant life of the region have earned it the titles "The Galapagos of Mexico" and "The Desert Aquarium." It's not hard to see why - clear, glassy rivers give way to mounds of pure white sand, delicate scrub brush and sheer marbled walls of rock. Wind and weather mean that the dunes and pozas (desert pools) shift constantly, so no two visits will ever be completely the same. The ever-changing landscape is stunning in its beauty - but fragile too. The entire municipality is a designated Mexican Biological Reserve.
Although the region is accessible by bus, many of the more spectacular areas require the use of a car. Not-to-be-missed sights include Poza Azul - a well-known wetland environment with crystalline blue waters and a series of self-guided trails - and the ubiquitous white dunes, which you'll find in any of the wetland preserves. These huge hills of sand (the third-largest in the Americas) are made pure white by the presence of calcium sulfate. Also of note is the Sierra de la Campana, a mountain range marked by a gigantic crater, which has become a prominent tourist attraction over the years.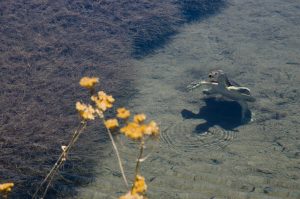 Situated just three and a half hours by road from Piedras Negras and four to five hours from Ciudad Acuna, both of which are on the border of Texas, there are few regions that are both as accessible and as suffused with peace and quiet as Cuatro Ciénegas. There's enough to see in the area that you may wish to extend your stay for longer than a day. If so, inexpensive camping is available in Poza Becerra, or you can book a room in one of several small hotels in the main town of Cuatrocienegas. While the Four Marshes are likely to be a breathtaking experience for any visitor to Mexico, they are without doubt an essential stop for any ecotourist or nature lover.
SOURCES
http://www.sectur.gob.mx/pueblos-magicos/
https://fettss.arc.nasa.gov/collection/details/cuatro-cienegas-1/
http://www.coahuila.gob.mx/gobierno/conoce/acercade/municipios/cuatrocienegas.htm
http://beta.visitmexico.com/en/main-destinations/coahuila/cuatro_cienegas
---