Tips On Crossing The Border And Traveling In Mexico Care Free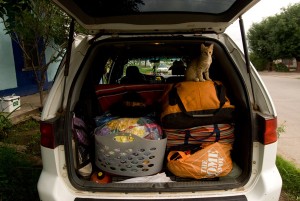 Professional Photographer, Raechel Running, is an artist in Residence in Casas Grandes, Chihuahua. She spends about half her time there and half her time in her U.S. home of Flagstaff, Arizona. She recently provided some tips on traveling to Mexico trouble-free.
Raechel explained, "Things are already intense on the border, and those guys have a hard job. People tend to be much more confrontational these days. All the border patrol people, on both sides, need our support whether we agree with the border politics or not. We can help make their job easier and get through the border faster by cooperating, smiling and saying 'thank you'."
Below find more advice from Raechel for a smooth border crossing.
- Be prepared for the border crossing. Travel only during the daytime. Allow yourself one-half to three hours to cross the border and be patient.
- "I also like playing music that helps put people at ease and usually play it soft."
- Make it easy for border patrol officers to see you. Take off sunglasses if you are wearing them.
- Have all your border-crossing documents ready and easily accessible when you reach the border patrol agents (Passport, Visa, Vehicle Importation Permit). It's best to keep these documents in their own file or folder.
- Make three copies of all your border-crossing documents and bring them with you. You will need these copies and having them ready will save you time at the border.
- Ask border patrol officers what they need to process you through more quickly. How can you help them?
- As of June 1st, 2011, there is a new import fee depending on the year of your car ($200 to $500). You must pay/ leave this fee at the Banjercito office before you enter into Mexico. It will be refunded to you IF AND ONLY IF you exit Mexico before your Import Permit expires. Have your vehicle import sticker removed by Banjercito agents upon your return, to be sure your deposit is refunded. (Read more at https://www.mexpro.com/blog/new-policy-for-mexico-temporary-vehicle-import-permits-effective-now.)
- Get your Passport stamped if you are leaving the country.
- Travel with water and snacks when crossing the border, in case the wait times are extensive.
- Bring a good book. "I travel with a library," exclaims Raechel.
- At the state line between Chihuahua and Agua Prieta, Sonora a lot of trucks are being searched. Try to get ahead of the trucks and look for the lane for cars only to avoid long waits.
- Pack food items so they are easy for officials to view. Remember: Fruits and vegetables are not permitted into Sonora from Chihuahua.
- When you return to the U.S. you must have "Hecho en Mexico" (made in Mexico) stickers on any items you purchased in Mexico. "Leave your boxes open - don't seal completely. Keep your receipts available if you are bringing in art like the Mata Ortiz pots."
Here are other tips from Raechel for making your visit to the interior of Mexico easier and more pleasant...
- When you come into contact with Mexican people smile and be sure to say" thank you".
- Bring spare change to help the locals (for window washes, to buy snacks, etc.). "Twenty Dollar bills work great. You can use ATMs in Mexico for a direct exchange rate. Sometimes it's best to let your bank know you'll be traveling out of the country so they don't put a freeze on your account for unusual activity."
According to Raechel, drug violence fears are less prevalent than a year ago, and locals are out and about more. "People appear to be more open and friendly now, People need us to visit." she said. "I think following these tips will help greatly in making things go more smoothly on both sides of the border."
We would like to thank Raechel Running for these great Mexico travel tips and wish her happy travels. We will report more on her adventures in the near future.
Raechel Running (http://raechelrunning.com/) is a professional photographer and activist supporting cultural, educational, and conservation efforts on the borderlands to raise awareness of our shared history of the borderlands and preserving the culture of Mexico.
This article was written by Roxanna Brock McDade of www.Mexpro.com, a top Mexican auto insurer. Quote, print and purchase A-rated Mexican Auto insurance just minutes before hitting the road to Mexico.