Surfing Spots Around Los Cabos
Last Updated: April 18, 2023 by Mike Mercer
Categories:
Los Cabos Surfing Destinations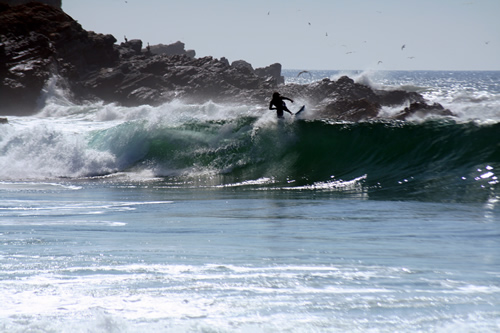 Always surf with proper care
Surfing is definitely an adrenaline inducing sport with some serious potential for fun, but also some serious potential for danger. If you are just starting out, or maybe just a little rusty, there are many reputable surf schools in the Los Cabos area that can help you sharpen your skills before you tackle the waves. Always be aware of potential underwater hazards, such as: rocky bottoms, jagged coral, not-so-friendly sea critters (sharks, sting rays, jellyfish, squids, etc.), as well as other surfers. It is also a good idea to purchase travel medical insurance coverage, such as, a Patriot Travel Medical Insurance policy that includes the optional Adventure Sports Rider. This way you have coverage while you are participating in activities like surfing.
A handful of Los Cabos surfing spots
There are numerous surfing spots all along the Mexican Baja Peninsula, but some of the best are located near the southern tip, around Los Cabos. The Los Cabos area is comprised of the two sister communities of San José del Cabo and Cabo San Lucas, which are connected by the Trans Peninsular Highway and an area commonly referred to as the tourist corridor. In this article I identify just a handful of the surf spots near Los Cabos you may want to consider for your next Mexico vacation trip.
Playa Los Cerritos
Santa Lucia de Los Cerritos, also known as Playa Los Cerritos, is located next to the small coastal desert oasis town of El Pescadero. El Pescadero sits nestled between the Sierra de la Laguna Mountains and Los Cerritos (The Hills) Beach on the Pacific Ocean. Los Cerritos, which is said to be one of the best beaches on the Cabo, offers great opportunities for both experienced and beginning surfers. Each year, Los Cerritos plays host to a number of championship surfing events, and it has been featured in Surfer Magazine.
Playa Cabo Bello
Playa Cabo Bello One of the best spots to surf, along the area south of the Trans Peninsular Highway connecting San José del Cabo to Cabo San Lucas. Playa Cabo Bello is also the closest surfing spot to Cabo San Lucas.
Acapulquito
Playa Acapulquito (Little Acapulco Beach), also known as Old Man's Beach is a popular place and can often be somewhat crowded. The waves at Acapulquito are often slower and smaller than most of the surrounding surf areas, making it a great place for beginning surfers, surfers who are just getting back into the sport, or for those looking to just hang out on the beach and do a little people-watching.
Zippers Beach
Zippers Beach, lying along the Costa Azul (Blue Coast), just west of Cabo San Lucas, is a very popular place to surf, especially for the local surfers, and it is almost always crowded. However, only those surfers who have attained an intermediate to expert skill level should attempt to surf at Zippers, because of the dangerous bottom reef.
Punta Gorda
Punta Gorda is a spot that is considered well suited for surfers of all skill levels, and can get crowded at times, especially if the waves in other areas have already blown out. The beach is somewhat secluded with white sands and typically clear water. The best surfing at Punta Gorda usually takes place during the summer.
Shipwrecks Beach
Punta San Jacinto is commonly referred to by surfers as Shipwrecks Beach, because of the numerous ships the have been wrecked just off the coast. Sea faring mariners often refer to the treacherous shipping lane as Chainsaw Point. Although the area has not been so good for ocean going vessels, it is a good place to go surfing, so long as you stay clear of the many shipwrecks. Waves are typically great for carving and are suited for beginning up to expert surfers. Shipwrecks Beach is another spot with a rough road that requires a four-wheel drive vehicle, so this beach rarely gets crowded.