A Primer on the Rules of Drinking Alcohol in Mexico
Drinking Alcohol--Laws, Regulations and Consequences of Misconduct
Mexico is a great place to enjoy yourself out on the town, drinking with friends. However, it's important to be aware of the laws and regulations before you party.
With so much to see and do in Mexico, and its inclinations toward fiestas, it is only natural that many people choose to be social and celebrate while there. At the same time, it is important to understand the consequences of abusing alcohol and what you can do to protect yourself when out and about.
Legal Ramifications of Being Drunk
While it is no secret that drinking is a favored pastime for many who visit Mexico, the country also has some very strict laws governing personal conduct. Abide by these rules and regulations, so you can fully enjoy the festivities.
Keep in mind that the drinking age in Mexico is 18, and it is relatively easy to purchase alcohol almost anywhere on a 24/7 basis. Identification is rarely asked for, but you should always avoid purchasing alcohol for a minor. Police have been known to ask for identification of anyone who is drinking in public who looks underage.
Public drunkenness is illegal in Mexico, and this is a law that is often enforced. One is not allowed to drink on public streets, but it is perfectly fine to drink on your resort property. However, it is still wise to observe local customs and refrain from being overtly drunk and rambunctious no matter where you are in Mexico, as this can lead to hefty fines or even imprisonment.
It is not against the law to travel with alcohol in a vehicle in Mexico, though driving while drunk is a criminal offense. You may be detained for up to 36 hours if you're caught driving while over the legal blood alcohol content (BAC) limit. If you're found to have a drunk driving conviction in the last 10 years, you may even be denied future entry into the country.
Mexico's BAC limit is 0.8, but it's even lower in some states, such as Chihuahua, Jalisco, and Veracruz. Police officers can pull you over and administer a breathalyzer test if they suspect you're under the influence.
Possible Problems That Can Arise From Drinking Too Much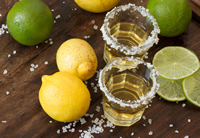 While Mexico is a safe country to visit and enjoy, there are some who seek to take advantage of unsuspecting individuals. If you know you are going to drink in abundance, confine the party to a resort area or reputable nightclub.
You will also want to guard your personal belongings, avoid leaving your group for any extended period, and ensure you do not leave with strangers.
Since these are things people tend to engage in when inhibitions are lowered, it's important to keep the consequences of drinking too much in mind while visiting Mexico.
Women Alone in Mexico and Places to Avoid Drinking
As with most places, women should be careful when walking alone at night. While tourist areas do have a great deal of security in place, there are still various regions where everyone should exercise a level of caution.
Stay with a group and avoid dark alleys, quiet streets and areas that you're unfamiliar with. These are places where criminal activities are more likely to occur.
Use these precautions and have great night(s) out in Mexico!