Rocky Point Eats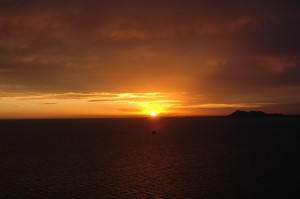 A couple months ago my husband and I had the rare and welcomed opportunity to vacation in Rocky Point Mexico when there was no one there. Due to the lack of people, we got to enjoy the city at an easy pace. We were lucky enough to eat at many of the restaurants...everything from seafood to tacos. Since the July 4th holiday is quickly approaching, I thought I'd share some of our finds.
One of our first visits in Rocky Point (after checking into our hotel, the Peñasco del Sol) was to the Rocky Point Visitor Assistance Center. Rosie Glover and her team treated us like special guests in their city and provided us with the attached map. I tried to clean it up a bit, as it's been traveling and there were many notes, but it's still looking rough. It is, however, the best map of Rocky Point I was able to find and it got us to many an interesting spot and delicious meal. So I've included it for your use and hopefully it will provide you the good times it offered me.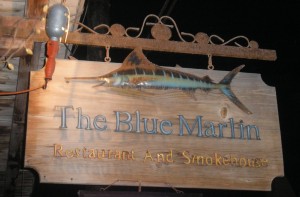 The most highly recommended restaurant we visited and found in Rocky Point was the Blue Marlin. YOU MUST get the "Special for Two"! This quaint, friendly local dinner spot has been around for over 40 years (according to other patrons who'd been going there that long!). You definitely want to sit on the porch for the most romantic effect. Feel the sea breezes graze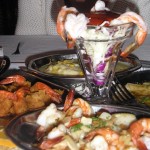 your shoulders as you sample Rocky Point's best local catches including: shrimp (of course-and several variations), red snapper, clams, oysters, flounder. You will leave full. The flan is not included in the special, but you shouldn't miss it for the world! This scrumptious meal will make you want more, but don't forget they are closed on Wednesday. Regrettably we did and a missed a second Special for Two. The Blue Marlin is by far the cream of crop of the restaurants we visited in Mexico.
Manny's Beach Club is supposed to be the place to party, but we went there for breakfast and then to cruise the cool tidal pools along the beach there. We had the Chaquiles, which is a creation with tortilla chips that are slathered in enchilada sauce & cheese. They are often served with eggs, as well. I was quite impressed and quickly full, making the stroll on the beach necessary.
Combo Taco looks a little like a Sam's club version of a taco stand, but you will not be disappointed in their fish tacos. I tried most of their taco "combos" but was most happy with the plain ole' fish tacos. Choose from multiple flavors of salsa and delicious slaw at the salsa bar. Be sure to follow the order when you go in…(1.) was hands in the back (2.) pick out a drink from the cooler (3.) order tacos (4.) pick a table (5.) get tacos, go to salsa bar and load up (4.) pay. This gives you the option to order more tacos need be, which we did.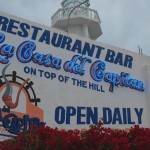 There was one cloudy day when we were in Rocky Point and on that evening we chose to visit the much talked about Casa Del Capitan, which most call El Capitan. This is where you will find the best sunset views in Rocky Point, as well as good food and drink.
It's very hard to find and we drove around for at least 30 minutes before we found the indistinct dirt road that leads up a steep hill to the restaurant (don't worry I have a little car with no four-wheel and I made it easily). If you're on your way to the Malecon, take the dirt road going left at an angle, past Latitudes 31. Head up the hill and at the top is El Capitan.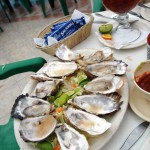 We watched an amazing sunset over all of Rocky Point and well beyond, while eating a $7 dozen oysters on the half shell. It couldn't have been better.
There are many other restaurants listed on the map and I encourage you to try them out. These were the one's my husband and I enjoyed and hope you will experience the same when you visit them.
Happy Eating!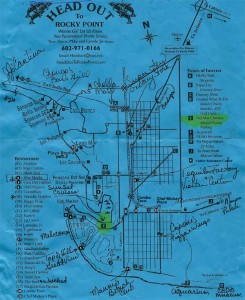 Click here to download the high resolution pdf of our map of Rocky Point.