Must-See National Parks in Mexico
Northern Mexico has several national parks that contain some of the country's most beautiful landscapes and unique animals. If you're planning a road trip to Mexico, consider adding at least one of these incredible parks to your itinerary.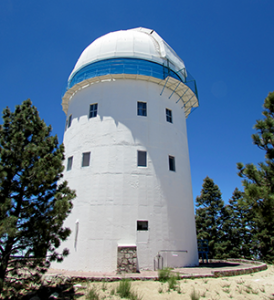 Sierra de San Pedro Martir National Park
Location: Ensenada, Baja California
Sierra de San Pedro Martir National Park is close to sunny Ensenada, yet its high mountain peaks are covered in snow in winter and its slopes host shady pine and cypress forests, presenting a scene and climate that seem a world away from the coast. The park's most famous landmarks are Picacho del Diablo the highest mountain peak in Baja California at 3,096 feet, and the National Astronomical Observatory, one of the most important in the world. Free tours of its telescope are available.
Directions: From the San Ysidro (San Diego, CA) border, drive south on Highway 1; the turn-off for the park is in San Telmo, at Km. 84.
El Pinacate Biosphere Reserve
Location: Puerto Peñasco (Rocky Point), Sonora
El Pinacate Biosphere Reserve, a UNESCO World Heritage Site, covers a large area of the Sonoran Desert immediately south of Mexico's border with Arizona. Its dramatic landscape features three volcanic peaks, unusual craters, cinder cones and dunes, and is notable for being so similar to the lunar surface that NASA sent astronauts there to train for walking on the moon.
Directions: From the Lukeville, AZ border crossing, go south on Highway 8. The park information center is at the Km 52 milepost, approximately 32 miles south of Lukeville.
Parque Nacional Cumbres de Monterrey
Location: Monterrey, Mexico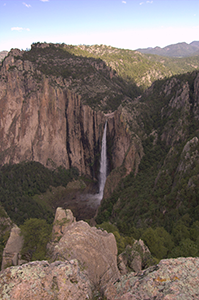 Parque Nacional Cumbres de Monterrey protects 680 square miles of rugged mountains and deep canyons in the Sierra Madre Oriental range. Walking along trails in the pine-oak forest will reveal spectacular views of waterfalls and indigenous plants.
Directions: Cross the border at the Laredo, TX-Colombia Solidarity crossing and follow Mexico 85 for 50 miles, then Mexico 40 for 100 miles.
Restrictions: No smoking, pets, fires, littering or feeding wildlife.
Parque Nacional Basaseachi
Location: Yepachic, Chihuahua
Parque Nacional Basaseachi may only cover about 22 square miles of the Sierra Madre Occidental mountain range, and Copper Canyon, but its space is packed with marvelous sites, including Mexico's second-tallest waterfall, Basaseachi Falls (853 feet). The protected land also has tall cliffs and unique rock formations.
Directions: From the Nogales-Mariposa crossing in Arizona, follow Highway 15 S and Highway 16 S for approximately 432 miles.
Whether it's your first time driving from the U.S. to Mexico or you're a seasoned border-crossing road-tripper, you can't fail to be impressed by the beautiful and diverse landscapes of Northern Mexico. Adding one or two of the region's national parks to your travel plans means you'll take in some of the most impressively scenic spots on the entire continent. From sun-baked deserts to crashing waterfalls and breathtaking mountain peaks to rugged canyons, Mexico's national parks boast natural treasures that are always worth the drive.