The Height of Mexico's Beauty- The Sierra Madre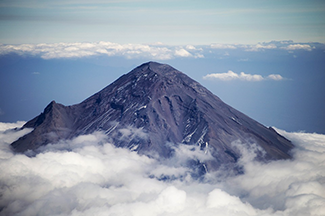 One of the world's largest mountain ranges, the Sierra Madre, which translates to "mother mountain" in Spanish, is a timeless symbol of Mexico's vast and diverse natural beauty. The impressive range spans all the way from the northwest part of the country to the country of Guatemala in the south, passing through several well-known cities and towns. It's actually made up of several smaller ranges: the Sierra Madre Occidental, in the west; the Sierra Madre Oriental, in the east; and the Sierra Madre del Sur, in the south. Whether you're looking for a family-friendly excursion or a thrilling mountain challenge, this Sierras won't disappoint.
Occidental
The Sierra Madre Occidental has many peaks, valleys and "barrancas," or canyons. The most well-known of these is the "Barranca del Cobre" also known as Copper Canyon. It's so vast and breathtaking that it is often compared to the American Grand Canyon. Guanajuato, a UNESCO World Heritage Site that was a colonial silver mining city, has colorful homes set against the backdrop of the Sierra Madres Occidental. Also close by is San Miguel de Allende (an hour from Guanajuato), known for its Baroque Spanish architecture, thriving arts scene and cultural festivals. Along the Pacific Ocean is Puerto Vallarta, which offers day trips to the mountains, all-terrain vehicle safaris, beaches, horseback riding and hiking.
Oriental
In contrast, the Sierra Madre Oriental range is more rugged but presents a more rounded appearance and is composed of mostly limestone and shale. Its average elevation is close to that of the Occidental but has some peaks that are as high as 12,000 feet. It includes gulf coastal plains, the famous Tabasco Region and the highest mountain in Mexico, El Pico de Orizaba, known by its Aztec name of Citlaltepetl. "Star Mountain" as it's sometimes called, is popular with adventure-seeking mountain climbers. Two hours from Mexico City is Taxco, which has shops and factories filled with beautiful regional silver.
Sur
Sierra del Sur is part of the Southern Highlands. This low-lying mountain range has crystalline mountains that reach an average elevation of 7,500 feet and stretch all the way to the sea to the Mexican Riviera. The ever-popular Acapulco can be found in this part of the Sierra Madres. In the Mesa del Sur, an area primarily populated by indigenous peoples, is the town of Oaxaca, world-renowned for it's elaborate Dia de los Muertos celebration.
Mexico's Sierra Madre mountain range spans much of the country, highlighting many great destinations along the way. You can marvel at the majestic mountains, keep an eye out for coyotes, climb a mountain or take in the culture and hospitality of this amazingly diverse and rich country. Whatever you choose, you can't go wrong in Mexico.