Mexico Life: Always Something to Celebrate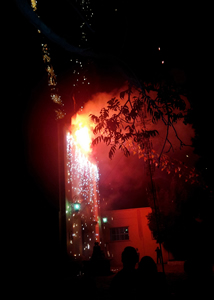 Earlier this month, the 11th came, and like most American's I remembered where I was when I heard the news about the two towers and the pentagon. At that time in 2001 I was a senior in high school. I had just turned 18. I thought for sure that there would be a war. Near graduation I joined the Army.
Eleven years later, now it's 2012, and I'm in Ramos Arizpe, a municipality just north of Saltillo in Coahuila, Mexico. And the 9/11 anniversary and the ensuing war in which I served are at the back of my mind. In front of me is a street filled with venders selling toys, movies, candies, clothing, and between the venders are people crowded shoulder to shoulder passing by. I can hear live music. In the distance are kiddy rides for a fair.
I already blogged about Mexican summer fairs: this is something totally different. It's the annual celebration of the town's historical hundreds-year-old church, the Cathedral of San Nicolas de Tolentino. The patron saint is a medieval Italian friar who is praised for performing 301 miracles during his lifetime and never accepted thanks, telling the people "say nothing of this", as he was acting as God's instrument.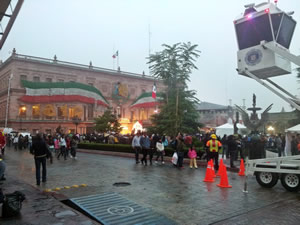 I didn't learn any of those Catholic Church saint facts at the celebration. It was a pretty secular feel. I mostly went for the fireworks. Yes, fireworks for a church-house's birthday: very big, loud and close fireworks might I add. I had never been so close a show like that. Though the safety regulations here are quite a bit more lax since there are no personal injury suits in Mexico, it went off without incident. I thoroughly enjoyed the densely populated light show while scarfing down a churro and washing it down with an orange soda.
The celebration for the church was hardly the biggest party of September. This is Mexico's month of independence after all. Once again I went with my wife to a crowded town center; this time here in Saltillo on the 15th of September. The central plaza featured in my last article still had the bronze statues, now blocked off a bit so that the crowd wouldn't disturb them.
This was a big event. I had to pass through a metal detector. The Local TV was there broadcasting live. A stage featured live performances and announcements ongoing. There was plenty of police presence.
Why so crowded? At midnight the Governor would address the crowd from the governmental palace; the Mexican equivalent of a state capital building. On the night of the 15th of September each year Mexico's president as well as the local leaders recite El Grito de Dolores, also known as the cry of independence: a sort of reliving of Mexico's declaration of independence from Spain in 1810. All the upped security was for the protection of the governor.
Unfortunately we didn't have the gall to stick it out to see El Grito. The weather was just horrible: overcast with a light drizzle. The kind we have back home in Seattle that lasts for weeks. None the less, as I saw on the local television stations the performers stuck to their celebratory traditions and clothing, dancing through the cold rain in short-sleeved dresses.
Whatever the month is, however, there are always things to celebrate here in Mexico. Every Sunday main streets are closed off in any town you go to for similar events. Even though most of the people are poor by US standards, and though there are drug cartels getting into gun fights every week, people still enjoy life to its fullest here.