Mexican Independence Day "Grito de Dolores"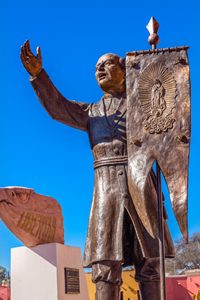 Mexican Independence Day is celebrated this week, on September 16. It observes this day in 1810, when Catholic Priest, Father Miguel Hidalgo y Costilla, started the War of Independence by attacking the Spanish with a poorly armed group of Mexican civilians. The War of Independence led to the end of 300 years of Spanish rule in Mexico.
Unhappy with unfair Spanish regulation of its colonies in Mexico, Miguel Hidalgo y Costilla (Hidalgo) and others conspired against the Spanish. When he discovered there was a plot to capture him he rang the church bell in the town of Dolores in Guanajuato, Mexico to gather his congregation.
Hidalgo's famous 'Cry of Dolores' (Grito de Dolores) was the speech which urged his parishioners to join him in the revolt against the Spanish, which they did despite poverty and an inadequate supply of weapons. Thus, began the war.
The War of Independence did not end until September 28, 1821, the day after General Augustín de Iturbidehe led the Mexican Army (Ejercito Trigarante), along with Mexican revolutionaries led by Vicente Guerrero, in the siege of Mexico City. Yet, the celebration of this event takes place on September 16th, and Hidalgo is regarded as the 'Father of Mexico.'
The festivities begin on September 15th at 11:00 pm at the Presidential Palace in the Plaza de la Constitucion, or Zocalo, in Mexico City.
The President rings the original bell, rung by Hidalgo in Dolores. The crowd shouts 'Grito Mexicano,' a cultural expression of joy.
The 'Grito de Dolores' – the surmised speech given by Hidalgo -- is recited and the heroes of the Mexican War of Independence are acknowledged.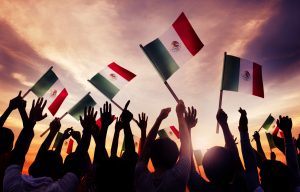 The celebration ends with three shouts of "Viva Mexico!" Afterwards, the bell is rung again and the Mexican flag is waved by all.
The evening festivities end with the singing of the National Anthem. Towns throughout Mexico participate in similar celebrations.
On September 16th a Patriot Festival takes place all over Mexico, featuring parades, festivals, marching bands, concerts and other celebratory events.
If you find yourself in Mexico during this holiday, you won't be able to miss the festivities, and I'm sure you wouldn't want to.