An Expat's Thanksgiving, Celebrating South of the Border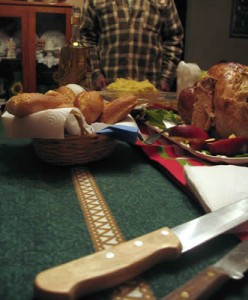 I've just now passed my third consecutive year of celebrating the U.S. tradition of Thanksgiving while living in Mexico. It's been interesting for me, because I've never had to be a principal chef of a feast before coming to Mexico.
Even when I was in the military, even living overseas in Baghdad, the chow halls were packed with imported foods to include turkey, stuffing, mashed potatoes, candied yams, cranberry sauce, sweet roasted ham, dinner rolls, and of course the pièce de résistance: pumpkin pie.
The whole concept of the Thanksgiving/Festival of the Harvest is quite foreign to Mexicans. One might speculate it's because the vast majority (save for a few remote mountain locations) of Mexico's landmass consists of tropical and subtropical climates, where frost is a rare occasion, and hardly disrupts crops.
The origins of the U.S. and Canadian thanksgiving came from European traditions of the harvest, giving thanks to the gods for a bountiful crop yield. Many U.S. and European holiday traditions have made their way south to Mexico. For example, the Christmas tree: originally a Germanic tradition was adopted by Victorian Britain, which passed on to the U.S. and later to Mexico. Most all Mexican homes and city central plazas celebrate Christmas or Navidad with a surprisingly non-secular Victorian style holiday theme.
Thanksgiving has always been a big deal for me. Although it wasn't made official in the U.S. until President Lincoln proclaimed it as the last Thursday of November in 1863, in hopes to strengthen the Union amidst a civil war.
The whole story about the Puritan pilgrims in modern day Massachusetts at Plymouth breaking bread with local Indian tribes in the early 1600s has been debated. I'm not convinced that they ever had peaceful relations with the native populations. I have traced my own bloodline to passengers of the Mayflower, and most history shows that the Puritans weren't respectful or peaceful with the native of New England. However, it has been documented that French Canadians of the Samuel de Champlain party did share their bountiful harvest celebration with the indigenous folk. I guess the French were more romantic and often married into the local populations. Maybe it's my French blood that persuaded me to marry a Mexican national.
However we have come to celebrate Thanksgiving, and holiday food in general, it's very important for most any person of a particular culture to have their comfort food during holiday festivals. Even in a neighboring country such as Mexico, finding the food to make my North American Thanksgiving/Holiday Season meal has proved to be challenging on many fronts.
First things first: the bird. Not a challenge to find in Mexico. The turkey (of the genus Meleagris, and having nothing to do with the west Asian country of Turkey) is native to the Americas. There's even a species native to the Yucatan Peninsula of Mexico. The American Southwest variety (known as Meleagris californica) takes the common name of Pavo, and that's what Mexicans call turkey. If you need to find a bird in Mexico, go to a supermarket and you won't have any problems finding a frozen Pavo. It's a very common holiday dish here. Mexican farmers even grow the big fat domesticated version which most of us eat in North America. They freeze them and sell them according to their weight in Mexican supermarkets.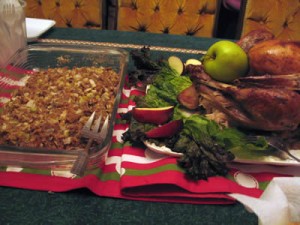 Stuffing (or dressing) is a challenge. It's not something people eat in Mexico. Each year I've cooked Thanksgiving here, I've always had plenty of stuffing leftover because it doesn't fit into the Mexican pallet: and that's fine, because I love it! You may be able to find stove-top style boxes of the seasoned croutons at an American store in Mexico. Wal-Mart is the largest private employer in Mexico, and their stores (including Sam's Club) can be found most anywhere in the Mexican Republic. If you can't find the box with the seasoning and directions, the croutons and spices shouldn't be too big of a challenge to a dedicated carrier of the Thanksgiving torch. The celery, butter and onions which are called on by the Americana recipe are all common foods in Mexico.
As for mashed potatoes: this one I'm happy to delegate to a Mexican family member or friend. Mexicans love potatoes. They are quite common here: they aren't the exact same species of potato that we have in the U.S., but they taste just fine with turkey-dripping gravy. Gravy packets can be found as well, but if you can't find them, getting the flour and spices together isn't too difficult.
I tried candied yams last year. Sweet potatoes are also native to Mexico; they're called camote and they are a bit different. I have never been able to find the brown sugar that the recipe calls for: maple syrup isn't exactly a native food in Mexico either. Brown sugar doesn't seem to be something Mexicans use, at least not in my region. Perhaps if you're near a sugar cane farm in the tropical regions you can find or make your own brown sugar with molasses. I have yet to take on this endeavor myself. Walnuts aren't common here either, but pecans I've found are a fine replacement, and are quite common in my region of Mexico. The nut-bearing trees are all over the place, but instead of pecan it's called Nuez.
As for pumpkin pie: this is a big part of the holidays for me, and I have never been able to find frozen pies or even canned pumpkin pie filling in Mexico: not at Wal-Mart, not at Sam's Club, not at the Texas based grocer HEB. Again, it must have something to do with the Mexican pallet.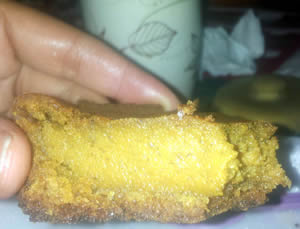 However, Mexicans do have pumpkins, so you can make it from scratch. The Spanish name for pumpkin is calabaza, but it's a nonspecific word that also refers to gourds and squash. Just make sure you ask for a gran calabaza naranja redonda, which translates to "big, round, orange gourd."
I'm not an accomplished enough gastronomical artist to take on the delicate task of baking. My wife knows how much I've missed pumpkin pie, so she took on the challenge. She bought some fresh pumpkin and watched a YouTube video in Spanish that had a step-by-step guide on how to make pumpkin pie from the raw ingredients. I helped grind up the cloves with a mortar and pestle, but she did the rest.
While many of the North American foods are foreign to Mexicans, holiday dinner parties are not. Wherever you are in Mexico I can promise you that you won't be short on willing guests to help you celebrate your foreign holiday traditions.