Eco Friendly Baja Destinations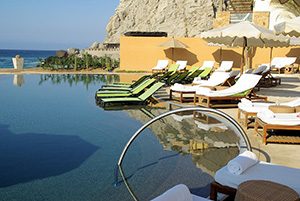 Baja California is a relaxed, friendly region of Mexico that promises the chance for outdoor adventure and meaningful interactions with locals. If you're looking to try and minimize your carbon footprint, you can find many ways to experience eco-friendly travel--especially by choosing an environmentally conscious hotel or lodging option. Here's a basic guide to green accommodations in the Ensenada area of Baja.
Encuentro Guadalupe
Encuentro Guadalupe is a stunning architectural feat and also one of Baja California's most environmentally-friendly destinations. Located in the heart of Mexico's Wine Country in Valle de Guadalupe, this hotel is designed with 22 "eco-lofts" (cabins) that blend into the landscape and highlight the beauty of the land itself. Each cabin is built on "stilts," so the bottom surface of the cabin doesn't make any impact on the earth below. In addition to providing easy access to nearby vineyards (and wine tastings), each room at the hotel has its own fire pit and terrace.
The water at the hotel is heated with solar power. Meals incorporate "slow food" methodologies by using grown locally, in season, ingredients that don't tax the environment by requiring transportation or unnatural growing techniques.
The hotel also features an infinity pool, which is a pool positioned to create the illusion that it merges with the surrounding landscape, and a jacuzzi heated by solar power. And, guests can tour the property on horseback.
Campera Hotel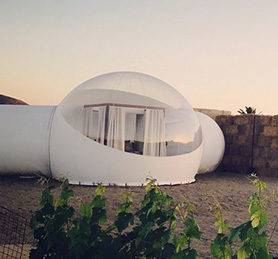 Campera Hotel is a unique sustainable eco-resort also located in the Valle de Guadalupe. The hotel features 10 rooms or freestanding glass "bubbles," where guests can experience what it's like to sleep under the stars. Each bubble has its own bathroom and full size bed for privacy and comfort. The design of the bubbles themselves are eco-friendly, since their small size means they don't require much electrical power for temperature control. The Campera Hotel has its own vineyard, so guests can enjoy wine from grapes grown onsite.
Cabanas Cuatrocuatros
Consider booking a cabin at Cabanas Cuatrocuatros, located in the town of Ensenada on the Pacific Ocean. The architects who designed and built Cuatrocuatros focused on preserving the beautiful 144-acre landscape of the property and incorporating structures that served to highlight the topography. Each cabana is outfitted with amenities you would find in a luxury hotel room, like a mini bar, king or queen size bed, air conditioning, and private terrace. The cabanas are located next to a vineyard, so guests can tour the vineyard and drink the wine made there. The resort's motto highlights their eco-friendly philosophy: "The vision to create Cuatro Cuatros consists on integrating, belonging and returning to nature. Looking after nature, as it looks after us."
If you are looking to take an environmentally-conscious trip, Baja California is a close destination with lots to offer. Choose a lodging option that is eco-friendly and suits your travel needs, so you can more fully enjoy your adventure without worrying about the impact you're making.