Discover Loreto in Baja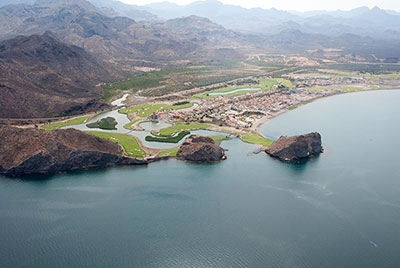 If you're looking for a palm-fringed paradise full of history and adventure, welcome to Loreto. This miniature Mexican town offers a more intimate, laid back, and intriguing experience than larger destinations. Sandwiched between the rugged Sierra de la Giganta mountain range and the Sea of Cortez, you'll find some of the country's most amazing wildlife excursions and a range of activities from snorkeling and kayaking, to mountain biking and hiking.
Loreto lies 220 miles north of La Paz and has a population of around 18,500 citizens. Alleged to be the oldest permanent human settlement in Baja, a visit to Loreto is a step back in time with all the comforts of a luxury destination.
Stand-out Experiences in Loreto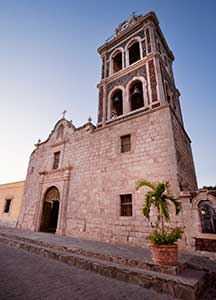 Jacques Cousteau said the Sea of Cortez is 'The Aquarium of the World', and with good reason! The highlight of any trip to Loreto is the Parque Nacional Bahía de Loreto, a UNESCO World Heritage Site, where you'll find marine life not found anywhere else on Earth. There are five large islands off the coast of Loreto, and over 900 islets throughout the gulf, many of which can be visited. Boat trips explore the whole area, giving you a chance to get up close and personal with whales, dolphins, sea lions and more. Isla Coronado is home to a colony of sea lions, while Isla Carmen, the largest local island, is famous for whale watching.
When visiting Loreto, Mexico, make sure you see the Misión de Nuestra Señora de Loreto Conchó. This historically vital church, still used today, dates back to the 17th century and boasts a grandiose altarpiece and a stunning statue of Our Lady. There's an attached museum, sure to be a hit with history buffs.
Food here is taken very seriously yet served with a smile. Look out for giant burritos, stuffed potatoes, and juicy arrachera. Don't leave without trying the chocolate clams. 'Chocolate' refers to the color of the shells, not the taste!
You also won't be able to miss the Sierra de la Giganta mountain range, on the western edge of Loreto. Running from Loreto south to La Paz, the highest point is Cerro de la Giganta and located near Loreto.
Getting There
Airplane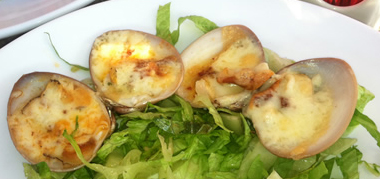 Flying is probably the simplest and quickest way to get to Loreto. Alaska Airlines runs flights to Loreto from Los Angeles Thursday through Sunday. You can also fly via Westjet from Calgary between November and May. Or fly between Loreto and Tijuana, where a Greyhound shuttle takes passengers across the border to San Diego.
Car
You can drive to Loreto, bearing in mind that it can take up to 16 hours to drive from San Diego. There's a limited shoulder so there aren't too many places to pull over. It's also recommended by locals to drive in daylight hours as cattle occasionally wander onto the road. Otherwise, the road is in good condition and many resorts and hotels have good parking facilities.
Bus
Both Aguila and ABC buses run from Tijuana to Loreto. The journey takes around 16 hours, so pack a book!
The best time of year to visit Loreto, Mexico is between late November and mid-April, when the temperatures are warm but not roasting, and the humidity is good.
Things to do in Loreto
Snorkeling
A Loreto snorkeling experience means swimming in the crystal clear waters of the Parque Nacional Bahía de Loreto and discovering a wild array of colorful fish off any of the five islands in the Sea of Cortez. Be sure to watch for curious sea lions, dolphins and blue whales.
Fishing
Join a fishing excursion and have a go at catching Yellowtail in the winter months, and dorado (dolphin fish) and Marlin in the summer months. Some of the local restaurants will even prepare and cook your catch.
Wildlife Excursions
Dolphin and whale watching are popular pastimes around Loreto. Since 2016, the Loreto Blue Whale Festival has given visitors a chance to learn more about these ocean giants, so look out for aquatic activities and events during March.
Book a trip around Isla Carmen and discover iguanas and long-horned sheep.
Explore the Sierra La Giganta Mountains
The mountains offer incredible views and adventures whether you are discovering by car, off-road vehicle, hiking or mountain biking.
Visit Historic Missions
You'll find Misión de Nuestra Señora de Loreto Conchó in the center of town, flanked by a museum and severl small boutiques. About an hour's drive south you'll find Misión San Francisco Javier, possibly the best preserved mission in Mexico.
Golf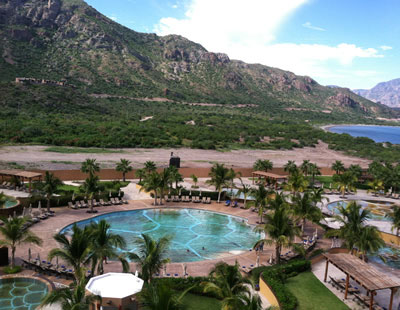 At the Villa del Palmar Beach Resort & Spa you will find an 18-hole course weaving through the jagged cliffs of the Sierra de la Giagante and overlooking Danzante Bay and the Sea of Cortez. There are three other golf courses in Loreto, as well: Club de Golf Loreto, Hotel Loreto Bay Golf Resort & Spa, Loreto Baja Golf Course.
Hotels and Accommodations
Loreto is known for good value; you'll find a wide range of options from all-inclusive beach resorts to motels. Some locals rent out rooms or flats. Campgrounds and RV parks are also available near the coast.
Loreto is a fusion of the past and the present; full of modern comforts yet wild and enduring. A place to release your hidden sense of adventure or relax and take it easy.