Cuatro Ciénegas–A Wetlands in the Desert
Last Updated: March 25, 2013 by Al Barrus
Categories: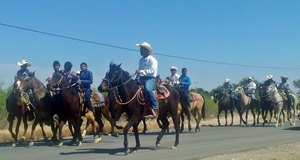 When I see tourist brochures in Saltillo they often include photos of people swimming in a crystal-clear lake. I have lived here for about a year and a half, and have never seen any sort of natural swimming holes in this dry elevated northern Mexican state; at least no areas with inviting waters. That is until I visited Cuatro Cienegas this last weekend.
A fellow expat recommended I visit the municipality for the natural phenomenon of its biosphere reserve. I've always been fascinated by new and unfamiliar flora and fauna, and this area has tons of it. So much so that it's protected by the Mexican Government and even NASA has taken interest in it, because the adaptability of the bio-forms within this very special valley and surrounding mountains.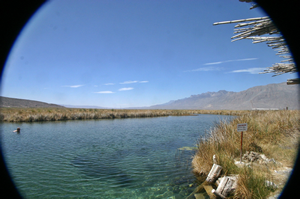 The English translation for Cuatro Ciénegas is Four Marshes. I understand a marsh to be a wetland, but the area still for the most part takes on the characteristics of a mountain desert. In fact the 100-minute drive from Saltillo to Monclova is dry high desert and pretty warm for mid-March. Forty-five minutes from Monclova is the Municipality of Cuatro Ciénegas.
On the way to see the marshes, we passed through the rural township of San Buenaventura, and bought some quite tasty caramel cones that are unique to the area. Kind of odd to see, but they are mini ice-cream cones filled with real sweet caramelized milk.
Another oddity I saw in San Buenaventura was a sort of ad-hoc parade called a Cabalgata. This is a rural Mexican tradition where people simply get together and ride horses down the main street of town. In the agricultural communities the people will call one together for a municipal festival, baptisms, weddings, or even something as simple as a birthday party. The front of the Cabalgata usually has a police vehicle escort, and most of the riders are nursing a cool beer, however on unofficial occasions drinking and driving is illegal, even if it is a horse.
I didn't get to see the official Mexican reserve of Cuatro Ciénegas on this particular visit. We went to a privately owned part of the marshes called Mezquites. Admission was 50 pesos per person, or about $4 USD. I was told that people are also charged to enter the national reserve but are no longer allowed to swim in the waters.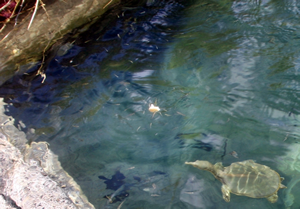 What is it that makes this place so special, and how does all this water get to be in the high desert? It's a natural spring, and that is what makes it such a unique biosystem. There are some very ancient and rare bacteria that inhabit the natural spring area, similar to those on Mars (reasoning behind NASA's interest). The national area has recently been restricted due to scientists' concerns that the Cuatro Ciénegas Basin is drying out.
I don't know much about the biology or geology behind Cuatro Ciénegas. I simply wanted to do some fresh water swimming. The Mezquite Park is hard to find, so be sure to inquire locally if you want to take a dip. You have to be careful driving out to the private park. I was told that there are some natural quick sand-traps, but have yet to see these outside of cartoons or movies.
It was well worth the drive. The park closes at 5 pm so get there early if you want to get your money's worth. Take goggles and cameras. There's an abundance of some very special terrain, plants, fish and even turtles.