5 Places You Must Visit in San Carlos, Mexico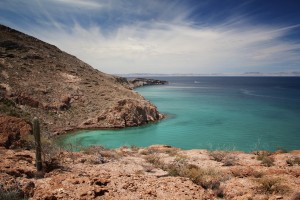 San Carlos is a large subdivision of the city of Guaymas in the state of Sonora, Mexico. It is located nearly 14 miles from the Guaymas city center, and sits on the Gulf of California. Small and independent, with just 7,000 residents, San Carlos has long been a favorite among American tourists, thanks to the clarity and warmth of its waters.
It takes just six hours to drive to San Carlos from the U.S. border, and making it easier, you are not required to obtain a vehicle import permit (though you should still buy Mexico auto insurance). Once you're in the city, you'll find that there are tons of activities on deck. From seaside restaurants, local markets, pristine beaches and more; here are the 5 places you must visit in San Carlos.
1. San Francisco and La Posada Beaches
There are plenty of beaches in and around San Carlos, though the two most famous public beaches are probably the San Francisco Beach near Pilar Condominios and the La Posada Beach near La Posada Condominios. The former is home to a cove with abundant wildlife, while the latter is known for the pebbles that line its shores. The waters near both beaches are exceptionally warm, clear and great for swimming.
2. Sea of Cortez
The Gulf of Mexico is colloquially called the 'Sea of Cortez' after the Spanish conquistador. The sea around San Carlos is particularly rich in marine life, with dolphins, turtles and breathtaking coral reefs. The waters along the coast are also a popular stop for migrating pods of gray whales.
3. Nacapule Canyon
To the north of San Carlos lies the vast expanse of the Cajon del Diablo biosphere reserve. The Nacapule Canyon is located at its southern edge, just a few miles from the city. This canyon offers an easy trek for families with sweeping vistas of the desert and rocky hills beyond.
4. San Pedro Nolasco Island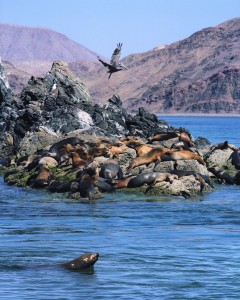 Some 28 km (17 miles) to the west of San Carlos lies a tiny island in the Gulf of California. This island - often called 'Seal Island' - ranks among the richest spots for marine life anywhere in the world. It is home to large colonies of sea lions, dolphins and tropical fish including the Cortez damselfish and reef fish. Come here to swim with sea lions, dive along coral reefs, and indulge in some quality sport fishing.
5. San Carlos Bay
With rolling hills behind you and the Sea of Cortez stretching as far as the eyes can see, San Carlos Bay offers some of the most breathtaking coastal panoramas in the country. You'll see weather beaten cliffs in the distance and hear the soft roar of the ocean. If you're lucky, you might even see a pod of dolphins swim past the shore - a perfect spot for a family picnic!
San Carlos is a wonderful little city with stunning ocean views, plenty of sea life and weather that couldn't be any more perfect. There are award-winning seafood restaurants, a dolphinarium, and dozens of dive spots all around. Now is a great time to make plans to drive down to San Carlos for a vacation you'll never forget!