5 of the Best Sonoran Beach Towns
Sonora, Mexico, offers travelers an array of relaxing getaways. If you're planning a beach vacation, check out these beach towns.
Colorful and culturally diverse, Sonora, Mexico, is home to seemingly endless miles of pristine coastline. Below is a list of five of Sonora's top beachside gems that should not be missed on any adventure through Mexico's second-largest state.
Rocky Point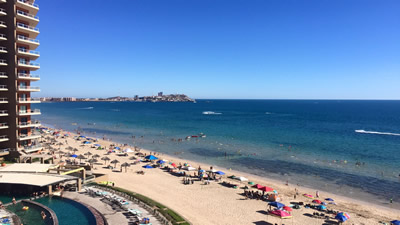 A mere four hours south of Tucson and about three and a half hours from Phoenix, Rocky Point, also known as Puerto Peñasco, is a favorite beach getaway for visitors seeking warm, clear ocean and beautiful sandy beaches. Rocky Point offers a few high-quality hotels and resorts, a variety of different dining options, and four main beaches for guests to enjoy.
San Carlos
Once praised as "the #1 Ocean View in the World" by National Geographic, San Carlos, Sonora, is a beach town offering scenery that cannot be missed. This is one of Mexico's top destinations for photography buffs and beach lovers alike.
In addition to great views, San Carlos also offers many activities for adventurous types, such as scuba diving, snorkeling, hiking and deep sea fishing.
Puerto Lobos
Friendly, alluring Puerto Lobos is located conveniently along the Sonoran coastal highway, which makes it easy access for tourists who are traveling by car or RV. Many new hotels and resorts have recently been developed, as well.
It still retains a small beach community feel, giving it the perfect combination of convenience and charm. Visitors will find several diverse dining options. Puerto Lobos is also a popular destination for dolphin sightings.
Bahia Kino
Travelers looking for something small, tranquil, and off the beaten path will find Bahia Kino (Kino Bay) a quiet, coastal paradise. A small fishing village (with delicious seafood to prove it), this little town is not filled with high-rise buildings or touristy resorts. Instead visitors can enjoy a slower paced vacation and uncrowded beaches. Kino Bay is great place to enjoy the beach, eat good seafood, while avoiding the crowds.
Puerto Libertad
Located about halfway between Rocky Point and Bahia Kino is the beachside community of Puerto Libertad. This largely undeveloped town provides another sleepy escape to travelers who want to get away from crowded resorts and just enjoy the picturesque beaches and untouched Sonoran Desert.
In addition to exploring the coastline, visitors to Puerto Libertad can visit the historic San Diego del Pitiquito mission, just two hours away, in the small town of Pitiquito.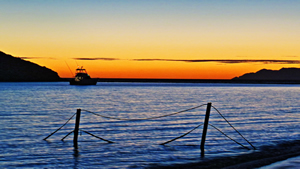 The mission dates back to 1694, and is the oldest church in Sonora that has original indigenous artwork still intact.
Whether you are looking for a Spring Break destination, a place to relax or a family vacation, this list of Sonoran beach towns is sure to leave a lasting impression. Clear water, soft sandy beaches and ideal weather make these some of the finest beaches for travelers. Yet, Sonora has an endless supply of remarkable beaches along its coast that are just waiting to be discovered.