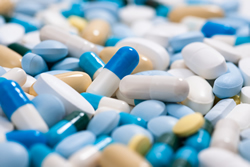 It's no secret that drug and pharmaceutical prices in the United States can be outrageously expensive at times. Recent media reports have mentioned how many people are seeking to purchase drugs in other countries or online. And if you live near the border with Mexico there is an easy, viable option.
Many common drugs available in the United States can also be purchased in Mexico, often at a significant reduction in cost. But before you take your prescription across the border or plan on doing a major shop at a local Mexican drugstore, you may want to learn more about what drugs are available, and which ones will be allowed back across the border.
Purchasing Pharmaceuticals in Mexico
People traveling across the Mexican border from California, Texas and other bordering states to purchase cheaper pharmaceuticals is not uncommon. In addition to being less expensive, many drugs that require a prescription in the United States are sold over the counter in Mexico.
But it should first be noted that federal law prohibits the importation of any drugs that have not been FDA approved, and this includes foreign-made versions of popular U.S. pharmaceuticals. Additionally, some drugs that are considered controlled substances by the DEA cannot be brought back to the US. Examples of some of the controlled substances that are illegal to bring back over the border from Mexico include:
Xanax
Ambien
Tylenol containing Codeine
Cipro
Oxycontin
Percocet
Vicodin
Lunesta
Phenobarbital
Various antidepressants
It is a good idea to check the complete list of controlled substances to see if the drug you wish to purchase is on it before making the trip to Mexico and attempting to bring the drug back over the border.
Popular Drugs That Can Be Purchased in Mexico and Brought Back to the United States
There are a wide range of medicines that can be purchased in Mexico without problems. Some of the more common prescription drugs that you can buy without worrying about breaking U.S. Federal law include:
Prilosec
Viagra
Levitra
Lorazepam
Valium
Various antibiotics
Birth control
Things to Watch Out for When Purchasing Prescription Drugs in Mexico
Counterfeit drugs may be masquerading as popular brands. Check packaging very carefully.
While you can get a prescription for medication from a Mexican doctor, the pharmacists at Mexican pharmacies may not have as much medical training as U.S. pharmacists. Additionally, if you have side effects or a bad reaction to any drugs purchased in Mexico, you may not have any legal recourse.
Drugs that appear familiar may actually have different active ingredients, so it is important to read the ingredients, dosage instructions and other pertinent information carefully. It can be helpful to bring a photo of the U.S. packaging and information with you so you can compare.
Bringing Prescription Drugs Back Over the Mexican Border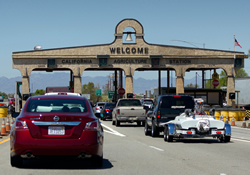 All pharmaceuticals that you have purchased in Mexico must be declared at the border. Lying, or being caught with a large amount of drugs beyond a reasonable amount (more than 50 combined total doses) can result in confiscation of the drugs, as well as fines and/or arrest by U.S. Customs agents. Some drugs that require a prescription in the United States can be purchased without one in Mexico, but prescription drugs must be kept in their original packaging and contain proper identifying information of the drug and the prescribing pharmacist, if there is one.
Other Medical Discounts
Did you know that medical tourism is becoming popular in Mexico among U.S. and Canadian citizens? Mexico has put a lot of money into improving medical facilities and training doctors at top schools in the U.S. and other countries. If you need a medical procedure that is not affordable, or your deductible exceeds the funds in your pocketbook, look no further than Mexico. Go to medicaltourismjuarez.com for information on procedures in Juarez, Mexico.
Driving to Mexico? Don't forget Mexico auto insurance…it's required and your U.S./Canadian policy will not cover you there.
The latest addition to our Mexico insurance products is travel medical evacuation insurance, providing air evacuation services to your home hospital in the event of an emergency in Mexico.
Related Articles: