How is Semana Santa (Holy Week) Celebrated in Mexico?
Next to Christmas, Semana Santa is the second most widely celebrated holiday in Mexico. Taking place the week before Easter, Semana Santa involves week long celebrations, masses, processions.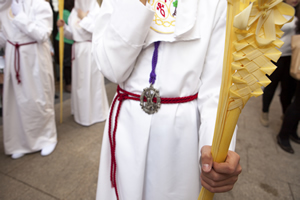 Holy Week begins with Palm Sunday with large Catholic masses. Palm fronds are woven into crosses and other various arrangements and often brought to the altar to be blessed with holy water. They may also be burned and used for marking parishioners foreheads on Ash Wednesday.
Ninety percent of Mexico is Catholic and the importance of the holiday means many Mexicans choose to take vacations during this week. These often extend to the week after Easter, as well.
Altars are decorated in churches and homes. Flowers and crosses constructed of palms fill the streets, along with other religious symbols.
Though celebrations take place throughout the week, of particular importance is Maunday Thursday, Good Friday, Holy Saturday and Easter Sunday. Maunday Thursday marks the beginning of Easter and is celebrated with masses, sometimes reenactments of the Last Supper and other religious traditions. From Thursday until Easter church bells are silent.
Most Mexican communities reenact the crucifixion of Jesus on Good Friday. This sometimes includes the Passion Play, portraying the trial of Jesus, and his suffering up to his death.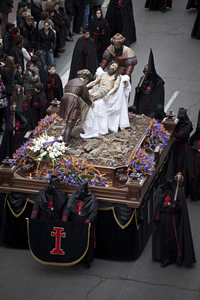 Holy Saturday represents the mourning of Jesus' death. Statues of the Virgin Mary are dressed in black. Central and Southern cultures sometimes enact the burning of Judas, a punishment for the disciple who betrayed Jesus.
Easter Sunday is reserved for crowded masses and the ringing church bells. When mass is finished people fill city centers in celebration.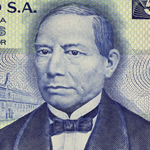 This year is particularly important as another National holiday takes place today (March 21), during Semana Santa. This is the birth date of the much loved president of Mexico, Benito Pablo Juarez Garcia (known as Benito Juarez), who is considered a National Hero.
Most Semana Santa events are held outdoors, meaning there is a lot of street food (antojitos) available. Since the dietary restrictions of Lent are in effect the days before Easter, food can include, depending on what part of the country you are in, cheese pambazos (a Mexican white bread), fried fish, plantain dishes, tamarind and fruit.
The most phenomenal Holy Week celebrations take place in Iztapalapa in Mexico City, Taxco, San Miguel de Allende and San Luis Potosí.
Semana Santa is a spiritual and festive time in Mexico. It is a special time to celebrate and enjoy age old Mexican traditions.