Lay-up Provision for Extended Mexico Trips
Visiting Mexico for an Extended Period? A Lay-up provision may save you money, while keeping you insured in your home country.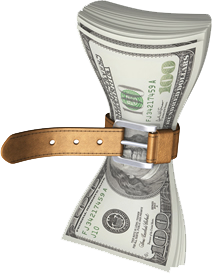 It doesn't make sense to pay for insurance twice...When you are headed to Mexico for a long period of time it doesn't really make sense to pay for a policy in the US or Canada AND Mexico at the same time...or does it? Let's take a look. One of the most common questions that we get this time of year is related to this issue. So here are a couple of really quick pointers that we hope can help you make the right decision for you.
Most Mexican insurance policies exclude physical damage or theft coverage, if there is no coverage for these on your US or Canadian policy. This means when it comes to auto insurance in Mexico, you can only get the same coverage you have at home.
It used to be different, but fraud has become too common. In the past it was too easy to purchase a Mexico insurance policy after an accident, claiming it happened in Mexico. So a number of precautions have been put in place.
There is an exception to this rule, which allows you to skirt the exclusion. You must pay a slight surcharge and state you have a layup provision, or that you will be in Mexico more than 180 days. Here is how it is applied:
Let's start with Canada, because it's easier. Many Provinces have what they call a Lay-up provision. Meaning you can go to the government, tell them you will be in Mexico and that you want to "pause" your policy for a period of time. In this case you only pay for the Mexico insurance policy. Pretty simple.

The US is a bit more complicated. First most states don't have layup provisions. Moreover, because most states now have laws requiring insurance, and have also integrated registrations with insurance. It makes things more difficult. How? If you drop your coverage, the insurance company tells the state and the state drops your registration, as a way to insure you keep insurance on your vehicle.

From a Mexico insurance perspective, things aren't really that different from how things work in Canada. If, on the quote application step of our quote form, you state you will be in Mexico for more than 180 days it MAY increase your Mexico insurance premium (not with all insurance companies), but from a Mexico insurance stand point you will be properly covered.

Losing your registration in the US, however, can cause problems; from reinstating it, to getting insurance later. It can actually cause problems in Mexico, as well, as it can cause your temporary import permit to be canceled or invalid which can lead to the vehicle being confiscated. Confiscation of vehicle is NOT a covered loss under this policy. Consequently if your vehicle is registered in the US and you will be in Mexico for an extended period of time, we suggest you call your agent and maintain your state's minimum insurance limits while in Mexico. This keeps your registration in place, and makes it easy to reinstate when you return. In addition, it saves money while you are out of the country. Not as slick, but it truly is the best way at the moment (until states recognize it doesn't make sense to continue to pay for insurance when one is out of the country).
So in most cases it will make sense to keep a policy. The question is whether you have to pay for that policy while you are out of the country. If you have further questions, please visit our site map or contact us at your convenience.