Whitewater Rafting in Veracruz Mexico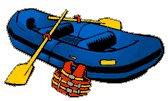 Many active travelers come to Mexico for the Mayan, Aztec, Olmec, ruins. Many come for the beaches of Cancun, Puerto Vallarta, the snorkeling in Cozumel, the Colors of Mexico City, the jungles of Quintana Roo, or perhaps even the rich cooking of the entire country. A number of travelers even come windsurf, whale watch and hike. But not many come to take part in one of Mexico's greatest gifts, whitewater rafting.
In the state of Veracruz lies the country's best whitewater rafting destination. Boasting more than 40 rivers that spread across the dynamic terrain in Veracruz, it doesn't take much to understand why this state would have ideal world-class whitewater rafting and kayaking. The typical river in Veracruz accents narrow, steep water flow that has a medium to low water volume making rafting and other water sports a challenging and technical experience.
Understanding the demand for more extreme water sports and Mexico's notable resources to meet that thirst for whitewater rafting, Duende Tours is proud to present its new Whitewater rafting Jalcomulco destination.
Jalcomulco lies between Mexico City and Coastal Veracruz and boasts much more than meets the eye. The quaint village projects a very facile, slow paced way of life where generations of indigenous families have harvested sugar cane and mango crops for generations. But, much like the majority of Mexico, there is a hidden realm of activity only known to those that seek it. Jalcomulco's prize elements not only exist within the borders of its citizenry, they also extend out into the lush forests, wildlife, incredible biking trails, its very much sought after cliffs and gorges and yes, it's rivers.
The main attraction for whitewater rafting aficionados borders the city of Jalcomulco; the Antigua River. The river's class levels range from class II to VI.
Another important aspect about whitewater rafting in Veracruz coincides with deep jungle biking in the Mayan jungle, and that's the aesthetic element. The lush slopes surrounding the rapids are certainly something worth appreciating in a land containing flora and fauna unique to only this region of the world.