Visa Requirements for Traveling to Mexico
What is the process for getting a Visa for travel into Mexico?
The FMM or tourist card is issued by the Instituto Nacional de Migración (INM) or National Migration Institute in Mexico, who regulates the entry, stay and exit of foreign nationals, as well as Mexican citizens.
Passports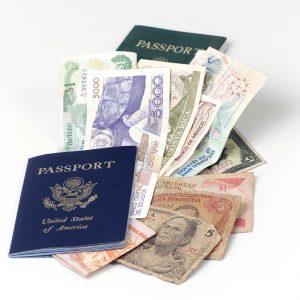 You must have a valid Passport to apply for a visa. This applies to all foreign nationals.
US Citizens can obtain a passport from the US Department of State. Canadian passports are available through the Government of Canada.
Tourist Cards, Tourist or Visitante Visa
The tourist card allows a maximum stay of six months and is generally not required for those visiting the Mexico Free Zone or for stays less than 72 hours.
Tourist Cards are Given to:
Tourists
Business visitors
Humanitarians
NOTE: Residents of Canada and the US are not required to get a Tourist card for entry into Mexico.
Where do you get a Tourist card?
Go to the immigration office at the border. It is a short form and does not take long to obtain. You can also apply online, but you will still be required to get a stamp at the immigration office at the border.
You must pay a small fee (approximately $25)
The fee may be waived if your stay is 7 days or less.
You may enter Mexico multiple times using the same tourist card over the six-month period for which it is valid.
Upon your departure from Mexico, you should present this document to immigration officials, so be sure to keep it in a safe place during your visit. You may also want to take a photo with your phone in the event you lose it.
The Visitante visa does not have to be returned when exiting Baja
If you lose your tourist card, you will have to visit an immigration office to get a replacement and will pay an additional fee.
Temporary Resident or Residente Temporal Visa
Formerly the FM-3, the temporary resident visa allows one to stay in Mexico for up to one year. There is a four year limit on this visa. You must display proof of appropriate funds to sustain living in Mexico for the period of the visa. A work visa is allowed as part of this permit, in which case you must prove you are making a minimum income, set by INM. You are permitted multiple entries into Mexico.
You must pay a fee each year you renew your Temporal visa. Please see 2016 fees.
Temporary Resident Visas are Given to those whose stay could benefit Mexican citizens.
Professionals
Investors
Technical or Scientific Professionals
Rentistas (those not employed, but living on resources from abroad)
Family member of a Mexican national
Family member of a Temporary or Permanent resident
Temporary resident visas are applied for at a Mexican Consulate outside of Mexico. They can be applied for online, however, one has 30 days after entry into Mexico to finish the process at an INM office. Find more detailed information on applying online here.
The resident temporal cannot be renewed after 4 years. They can, however, be exchanged for a Permanent Resident visa.
Temporary Student or Residente Temporal Estudiante Visa
This category consists of:
Students
Professors/Instructors
Research Professionals
The Estudiante visa will be mostly the same as the Temporary Resident Visa.
Permanent Resident or Residente Permanente Visa
Formerly the FM-2, the permanent resident visa is for those who plan to stay in Mexico for an indefinite amount of time. Permanent residents do not have to renew this documentation and are able to work in Mexico.
After one has resided in Mexico for a minimum of four years as a Temporary resident, they can apply for Permanent resident status. You will likely need to hire an immigration lawyer help complete this process.
Like the temporary resident visa, you will need to provide proof of income. And, you will need to pay a fee. Please see 2016 fees.
Permanent Resident Visas are Given to:
Retirees
Professionals
Investors
Technical or Scientific professionals
Rentistas (those not employed, but living on resources from abroad)
Family member of a Mexican national
Family member of a Temporary or Permanent resident
Person of Prominence
---