Tips for Traveling with Your iPhone or iPad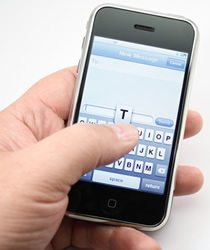 A foreign trip is exciting, but figuring out your AT&T iPhone/iPad connectivity while traveling out of the country can be challenging. Here's some firsthand experience to make things go more smoothly.
Calling—A plan is available for those traveling to Canada and Mexico for $4.99/month, which includes reduced calling rates.
Texting—Separate messaging plans can be purchased which start at $10/month for 50 messages. Only outbound messages are counted towards the 50, and picture messages are included. So, an unlimited number of texts can be received.
Those whose device uses the iOS 5.0 operating system can text with another iPhone/iPad user (running iOS 5.0 or above) using Apple's iMessage service. You can do this through a WiFi connection or 3G, but if you use 3G you will have to use an international data plan. To ONLY use iMessages (WiFi) and not text (3G), turn off standard texting by going to Settings > Messages and set "Send as SMS" to OFF and be sure iMessage is set to ON.
Free WiFi—Use the Wi-Fi Finder (by JiWire) app to find free WiFi hotspots. It's best to check for locations prior to your vacation since the app requires access to the internet.
Data—An international data plan, for $24.99/month for 50 megabytes of data (sending and receiving), makes it easy to use Google Maps to find your way around big cities and do quick email checks.
Reset data statistics upon arrival to your foreign destination so you can keep track and be sure not to go over your allotted amount. Go to Settings > General > Usage > Cellular Usage > Reset Statistics. Look at the data usage in "Sent" and "Received" to track how much data you've used. Call AT&T at 1-916-843-4685 (free International support) to upgrade to a higher data package if you find you are nearing your limit.
Cancel all International plans upon returning from your trip and fees will be pro-rated.
Click here for more tips on using your iPhone or iPad while traveling from the LakeForest-LakeBluff Patch.
---