Travel Destinations: Baja California, Mexico
by Janet Grischy, Helium Destination Guides
The idea of visiting Baja or its southern neighbor Baja California Sur may be intimidating right now. Crime is a reality near the border, and there are reports of trouble along the coasts. However, adventurous travelers know Baja California is still a wonderful destination.
The climate is warm and pleasant, the sights varied, and accommodations inexpensive. Most important, the people are warm and welcoming. Here are some of the many delightful places to see and things to do in Baja.
Cities
At the southern end of the Baja peninsula is Los Cabos, composed of San Jose del Cabo, Cabo San Lucas, and the territory in between. These are extremely popular tourist destinations. Formerly sleepy fishing villages now offer sport fishing, water sports, golf, and nightlife that ranges from epicurean to raucous.
Accommodations and activities are available for all tastes, and for almost all budgets. Flights from the U.S. are frequent and inexpensive.
Tijuana and Mexicali are the most populous cities in Baja. Many tourists drive right through them, to reach the exciting territories beyond, but Tijuana offers bullfights, Jai Alai, and a many inexpensive shops and services. Mexicali is the capital of Baja, and has a bullring of its own. Its nearby countryside offers hunting, spa visits, and amazing pre-historic art.
Towns
The towns of Baja and Baja Sur are lovely. Ensenada and San Felipe are seaside getaways for Californians, near the northern end of Baja. Ensenada is a pleasant resort with a few rough edges. Both offer beautiful beaches and lively nightlife.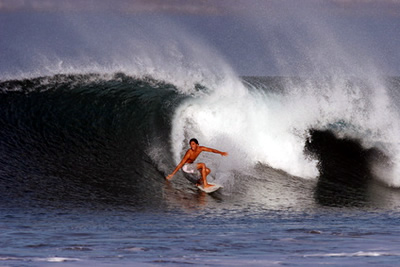 Todos Santos, just north of Los Cabos, is relatively undeveloped and something of an art colony. It's also a jumping-off place for the desert.
La Paz is not really a small town; it is the capital of Baja Sur. An eco-tourism hub, it is where many start their exploration of the Sea of Cortez.
Mulege is an interesting town in its own right, and a good starting point for visits to some of the ancient rock art of Baja and a lovely old mission.
Mission San Francisco Javier de Vigge Biaundo
Like its northern neighbor, Baja once held a network of missions established by Spanish fathers. Many were deserted after the Pericu revolt in 1734, or when the Jesuits were expelled in 1768. What usually remains are poignant adobe ruins, or a few bits of stonework. One existing mission, now supervised by the governmental archaeology department, is San Francisco Javier.
Set in a small town, it stands out against the stony mountains, and is itself built of blocks of mountain stone. Inside, is a stunning golden baroque altarpiece. The church also holds statues of St. Francis Javier, and of Our Lady of Guadalupe.
Prehistoric Rock Art
Nearby is La Trinidad Canyon, one of countless sites of pre-historic rock art in Baja. This site should not be visited without a guide. The art is ancient and fragile, and in a rugged and inaccessible location.
To hike to La Trinidad, visitors must ford at least one river (though it's sometimes dry) during a moderately strenuous hike of about four miles. On the other hand, the canyon holds fascinating images of animals in red and black, and encourages ancient spaceman fantasies with depictions of huge humanoids. Legend says the paintings were made by giant strangers from the north.
Farther north is a rock art site off the road between Tijuana and Mexicali. At Vallecitos, a white stick figure called El Diablito is illuminated each winter solstice by a sunbeam, which enters his cave and pours light into his red eyes. Many other petroglyphs and pictographs are found nearby, in a gorgeous natural area.
Spas
Northern Baja is also the site for an outpost of the Golden Door Spa, near Tecate. Called Rancho La Puerta, it welcomes guests for a week of pampering, exercise, spa cuisine, and relaxation. The large ranch has hiking trails of all levels of difficulty, as well as beautiful gardens and grounds. Saturday only day-spas are also available.
Other spas are located in many cities, mostly as salons attached to hotels.
Valle de Guadalupe
This is Mexico's wine region. Vineyards have been tended here since the days of the mission fathers, but within the last twenty years, the area has grown more upscale. Accommodations range from B&Bs to large hotels, and many wine tours are available.
The Valle de Guadalupe is quite near Ensenada, and easily reached from San Diego.
The Desert
Most of Baja is desert, though there are lush oases and agricultural areas too. Anyone who visits the desert should prepare well and go with a group.
The Ocean
Whale watching is one of the favored activities of tourists in Baja. Boats sail from every port to take tourists out to see them. It's a better experience in every way than viewing captive Cetaceans. Many species make Baja waters their winter home.
Pleasure sailors also love the waters of Baja. Because of prevailing winds, going to Baja first is the best way to sail from California to Hawaii, and many sailors use a trip to Baja as a shakedown cruise. They also get to visit the offshore islands.
Baja Islands
The Coronados are offshore of Tijuana. Sailors tend to avoid them, as hazards to navigation.
The Todos Santos Islands are offshore of Ensenada. They are popular with surfers looking for giant waves.
Cedros is a working island. It shelters salt harvesting, and a thriving fishery. Pleasant beaches invite visitors, as does the lack of commercialism.
The Sea of Cortez, between Baja and mainland Mexico, has at least 100 islands. The largest is Tiburon. Many are tiny, uninhabited, and nameless. Most are nature preserves, and many are eco-tourism destinations.
Visiting Mexico
No one should be afraid of visiting Mexico, but everyone should be aware on any vacation.
---