Tourists and Mexican Law
From "The People's Guide of Mexico" by Carl Franz and Lorena Havens
What are my Rights as a Tourist in Mexico?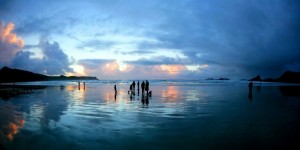 As a turista you enjoy almost all the rights of a Mexican citizen, with these exceptions: Tourists cannot work without special permission and cannot vote.
Some facts about the Mexican Legal system and laws of interest to tourists:
Judges, not juries, decide all cases.
Laws vary from state to state. (I arranged a series of interviews with a judge. To almost each of my questions the answer was the same: "it depends".)
A person can be held for up to 72 hours without being charged.
Any offense that involves drinking, drugs or minors is usually considered more severe than if it did not.